Having asked my friends what they wanted bringing back from Vegas, this morning was spent shopping for various food items – maple syrup, sugar free maple syrup, twinkies, pop tarts in unusual flavours and Cheetos :)
All this food shopping had made us hungry and the closest place was Del Taco.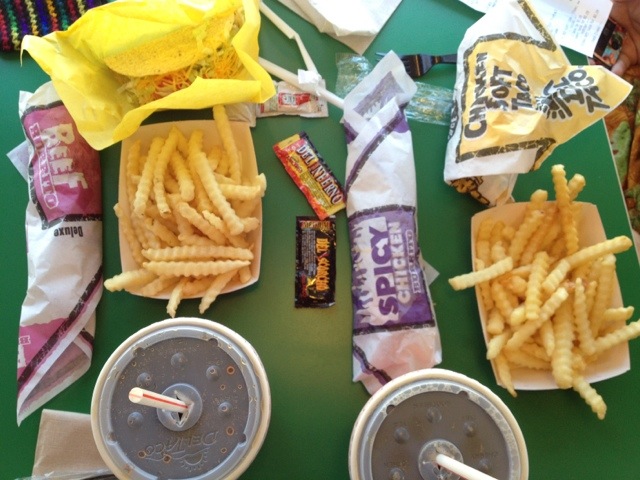 We're not sure why you're given (extremely salty) chips with a mexican meal, but the rest of it was tasty.
After that we headed over to Gold Coast for their swipe to win offer and each got the lowest point prize, bah.
Then we headed over to the Stratosphere to buy tickets for the evenings show. An uneventful trip except for some walking in circles hunting down the box office, so it took a bit of time. We'd wanted to go ooo at the view too but it was quite expensive and we couldn't find a 2 for 1 voucher quickly so that's been added to the list for next trip :)
Oddly, we were hungry again! So we headed back to our hotel for some food. Our Groupon had included $40 food credit which meant we had to eat at one of their restaurants. We chose Johnny Smalls as it offered an interesting sounding tapas menu.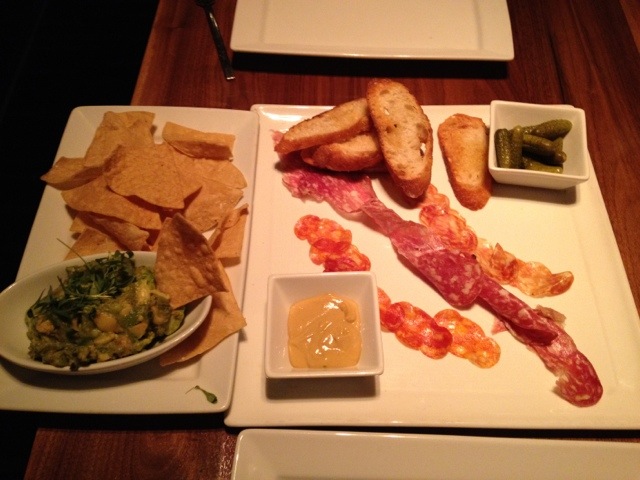 You got to order two plates each from the menu at a time, as many times as you needed to be full :) This meant we got to try lots of things.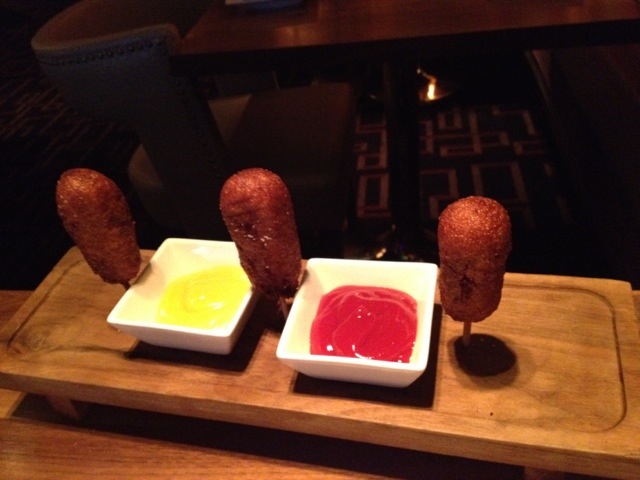 Some were things we'd had before like corndogs.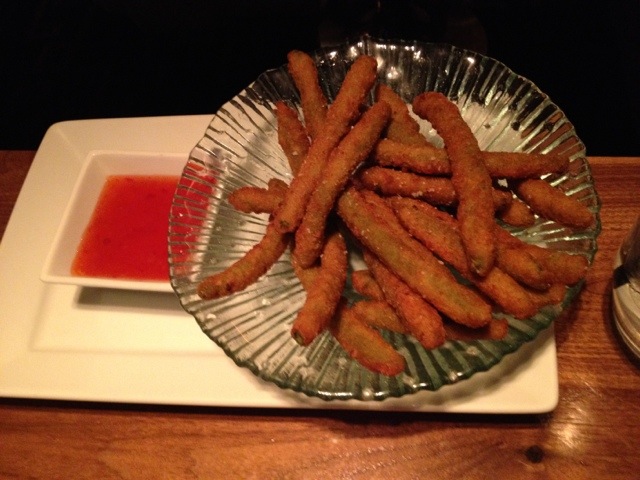 These deep fried green beans were new to us but very tasty! Not sure they still count as a good for you vegetable though!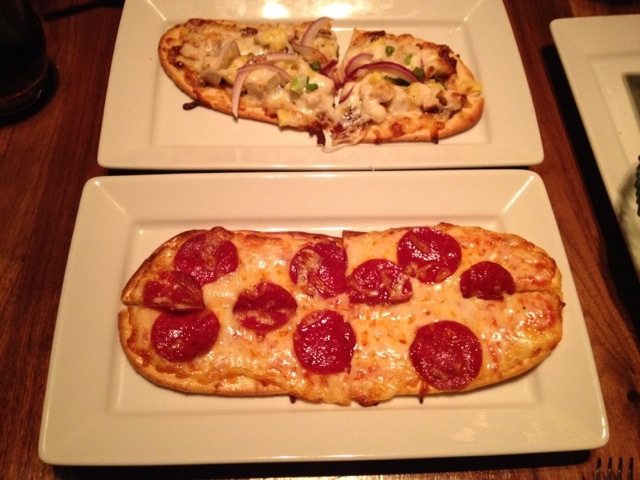 "Flatbreads" turned out to be pizzas (tasty but kinda filling when we wanted to be trying lots of different foods).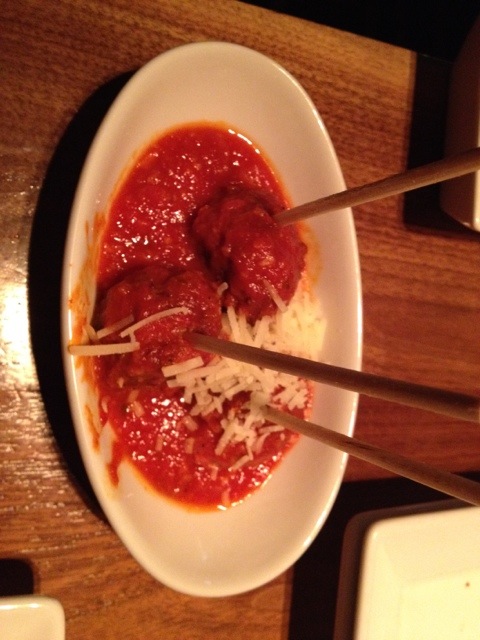 Tasty meatballs :)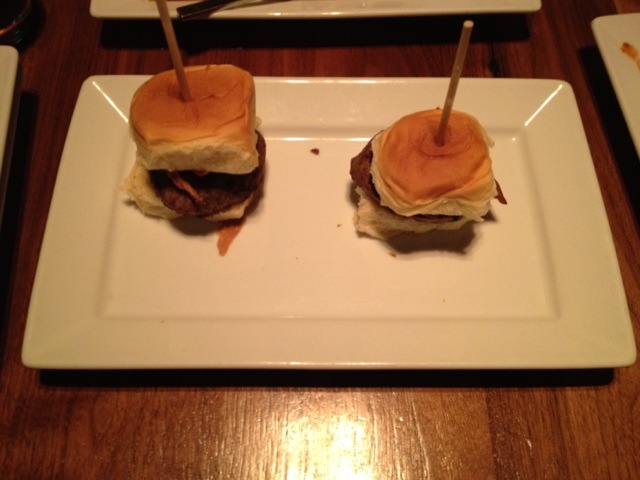 Some sliders. This wasn't the entirety of our food, because I didn't manage to photograph all of it! But it gives some idea of the selection :) The food was all very tasty and freshly prepared – a buffet cooked to order and brought to your table! A fine way to try different things and eat a little too much :)
After eating we went back to our room for a bit to start sorting out some of the many bags we had. When in Michaels, Chris had bought some fabric paints and neon tape so we could make our suitcases unique. I spent a while making sure mine would be recognised :)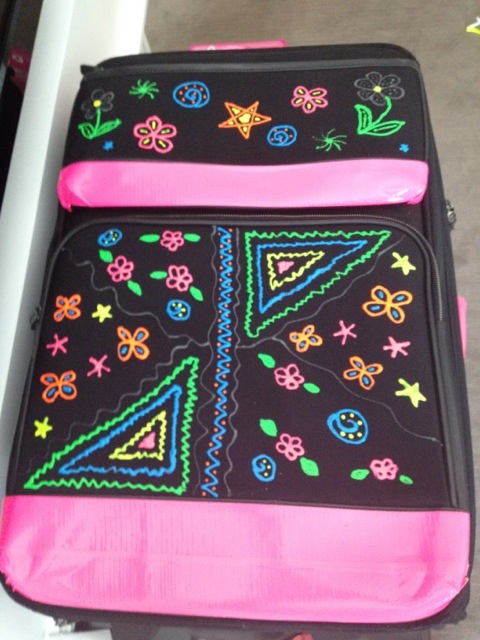 For our evenings entertainment we went to Bite. A show promising topless vampires and rock music. There was good dancing, some impressive acrobatics, a bit of magic, and a flimsy storyline. It was a little odd sharing a booth table with two strangers! But the show was enjoyable and I got a strawberry daiquiri in a Stratosphere shaped glass :)
After the show we refilled my drink and headed over to Hooters for a bit more gambling :) We wanted to get a few more of the freebies :) We didn't manage a huge amount though as I was rather tired and giggly and the money was vanishing a tad too quickly!