Today we got up bright and early to enjoy the pool :) Again, no photos as we took only ourselves and a room key! We had a nice swim and float around until we started getting too warm and worrying we might be burning.
Then it was off to Todd English PUB to meet with Eric for lunch. We worked with him on Poker Buddies and have been close to meeting a few times (actually at the same football game in Tampa but didn't realise it till after!) Mostly I sat quietly whilst Chris and Eric talked app marketing and monetization ;)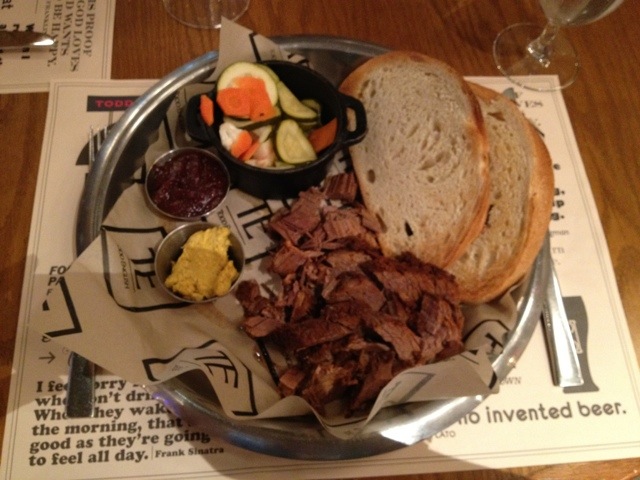 After we'd eaten we had a bit of a wander around. We went into the Cosmopolitan which has a big chandelier thing, and got a bit lost trying to get out again! Then we went to the Forum Shops in Caesars for an explore. We saw a lovely photography gallery – Peter Lik and a lovely art gallery – Vladimir Kush. Then we found ourselves in the Apple store, and buying things, oops! ;) I am now owner of an Olloclip which is a funky little piece of gadgetry containing three different lenses which clips onto the corner of your iPhone. I can now do macro, wide angle, and fish eye shots, all with my phone, hooray! :) Now you can expect slightly sillier photos from me ;)
The shopping centre has some odd escalators… they go round corners!!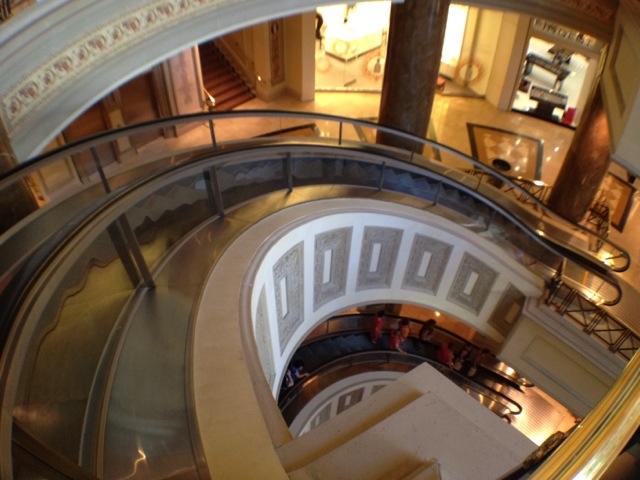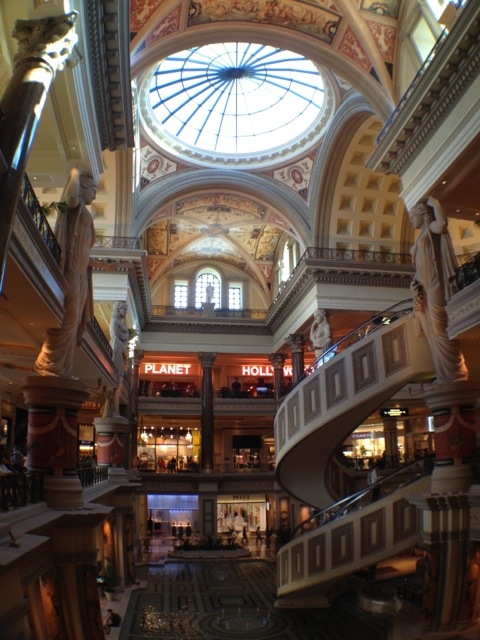 We had quite early dinner reservations, so we had to get back and get changed and then head out to Marrakech. Thanks to Groupon we had a 6 course meal booked with the promise of bellydancing whilst we ate :) The restaurant is well themed inside so you feel like you're inside a tent. It is also very dark lit by some funky lanterns in the ceiling and candles on the tables.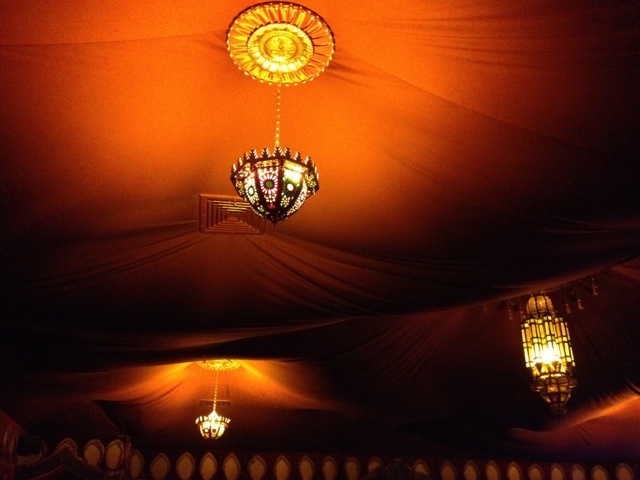 After we were seated we had our hands washed with rose water, which smells lovely! We were encouraged to eat with our fingers, which we did :) The first course was shrimp in a lemon and garlic sauce, served with lots of fresh bread. I'm not generally a fan of seafood, but this was very tasty :)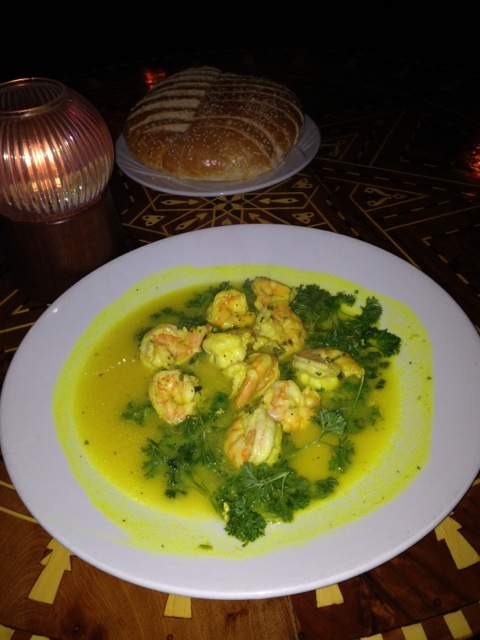 Next up, a small bowl of soup was delivered to our hands (hence no photo!) It was a lentil soup which was very tasty, lots of flavour :) The third course was some homous, an egg plant dip, and some salad veggies to dunk. In this photo you can see my soup too.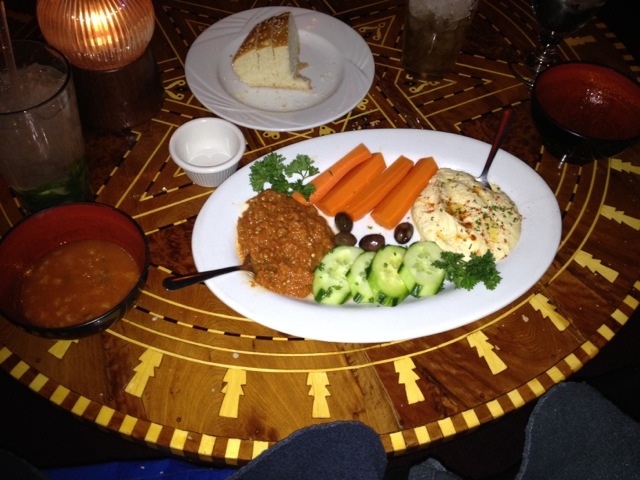 Fourth course was a beef kebab which was again delivered to our hands so I couldn't take a photo. It was really tasty and all to soon our plates were clear and waiting for the next course :)
The fifth was probably the least tasty, it was chicken and vegetables with couscous. Unfortunately, the majority of the vegetable was cabbage, which Chris doesn't really like and I'm not a huge fan of. It was nicely seasoned and the chicken was very soft, but the cabbage was a little overwhelming!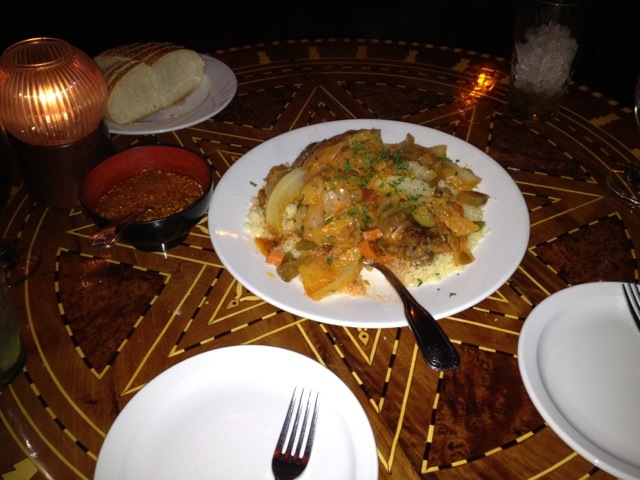 The final course was dessert :) It was filo pastry filled with banana, chocolate and almonds, covered in icing sugar and cinnamon. I'm not usually a fan of warm banana but this was very good :D Amazingly, we cleared the plate, despite being very full! ;)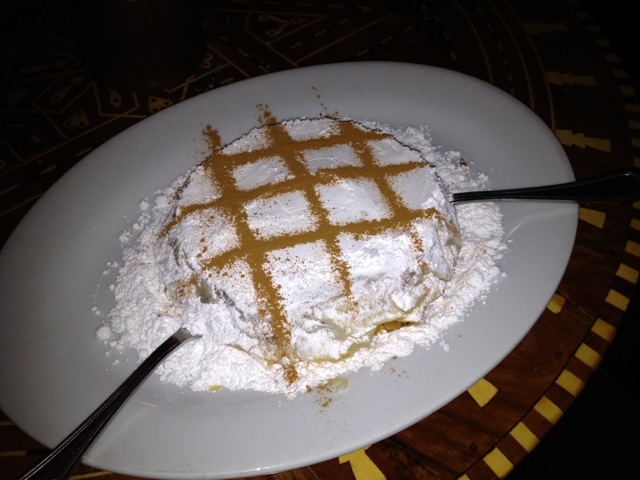 There was some belly dancing whilst we ate which was fun to watch, though we were sat on the emptier side of the restaurant as there was a large party arriving (just as we finished thankfully) so she mostly danced too far away for us to see. The food was excellent and the service was great too :) Definitely somewhere to try if you're in Vegas! :)
Having had such an early dinner we still had quite a lot of evening, so we headed over to the Orleans and saw Dark Shadows in their cinema. A very silly film with Johnny Depp as a vampire, obviously we enjoyed it :)