Today was our penultimate hotel switch. Time to check out of the Plaza and leave behind the pretty view of the Stratosphere.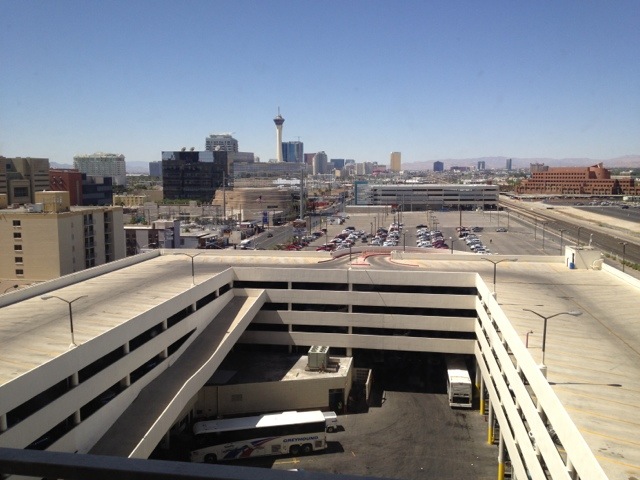 Whilst driving over to our next hotel we went past this and I managed to get a photo. It's a McDonalds, but it doesn't quite look like one!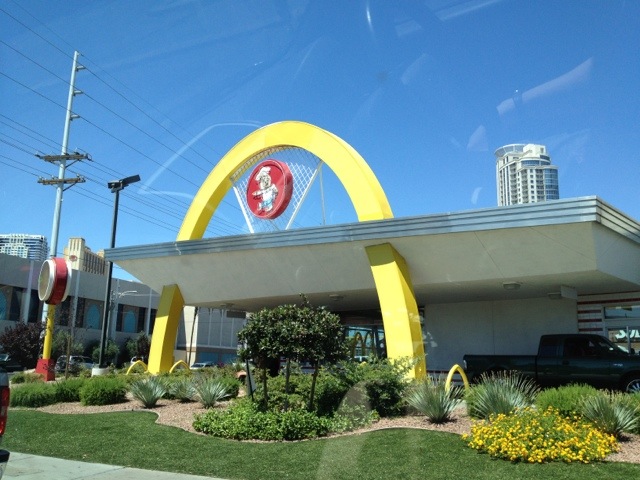 We had a Groupon for our last hotel in Vegas. To stay at the Hard Rock Hotel in their new all suite tower. We used the valet and had a bellman take our bags and then found the check in queue. We finally get to the front to be told that the new tower actually had its own checkin desk we could have used (if only it were signed or we'd psychically known!) but she checked us in anyway. Then we walked over to the tower and grumbled as it has a fancy smancy check in area with comfy seats! Dang!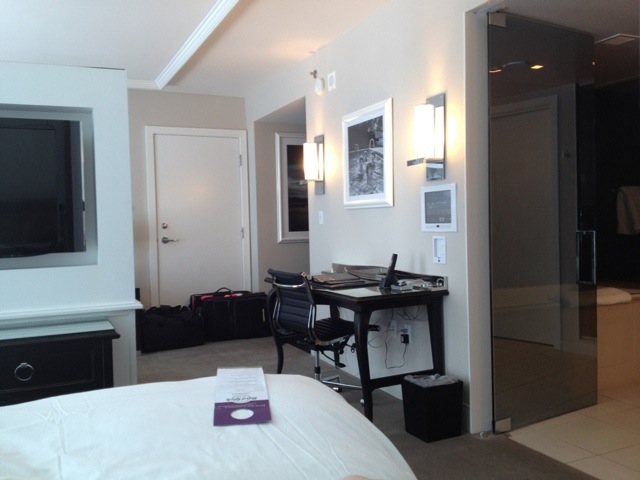 The suite was very nice. A lounge area with plenty of seating and back to back TVs plonked in the middle of the room to provide separation. The bed was huge and smooshy. The bathroom large with everything you'd expect :)
After we'd settled we decide it was time for some lunch. Being Wednesday and my following of Hooters online meant we had a magic word which could summon up 10 free chicken wings, so we headed over there. After nomming rather more than the free wings, and stealing another pen, we checked out the players club.
For those who aren't familiar with Vegas, every chain of casinos has their own little club. You get a card which you put into the machine (or hand to a dealer at tables) every time you play and it tracks your play and you get rewards. Most of these clubs have new player offers :) The good ones give you your money back if you lose within 24 hours, and Hooters not only had that, but also cool free prizes for earning a number of points!
So I signed up and we headed over to some video poker machines to see how many points we could earn whilst losing the $100 they would give you back. Only, we didn't lose! We did rather remarkably well and lost our whole afternoon to playing :) Turns out, I rather like Hooters. Not only do they have awesome chicken wings and pretty waitresses, they play good music :) So we were singing along whilst we played, quite content :)
When we realised it was time to go, we went and collected our loot so far :) Alas, they'd run out of blankets :( But it did mean Chris got a tshirt too, oh, and another voucher for free wings ;)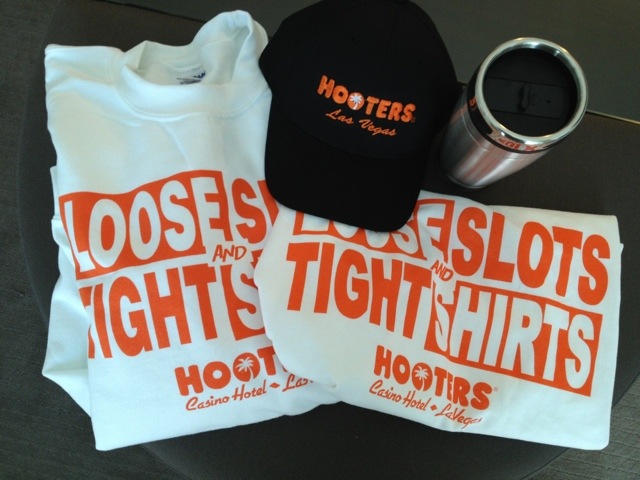 We had no time for those, it was back to the hotel to get changed before heading out to our dinner reservations. We had a table booked at Origin India to have our only Indian food of the trip :)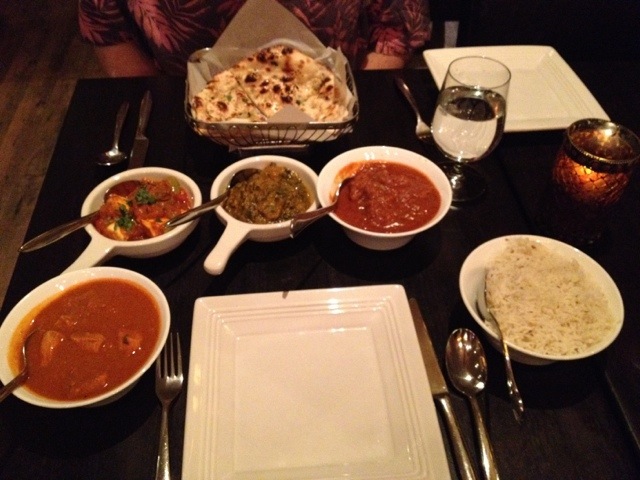 The place was very quiet so the waiters were a little hovery whilst we were trying to read the rather long menu! But once we'd ordered it was all relaxed and the food was very tasty :)
Our entertainment for the evening was Criss Angel. I'm not sure how much I should write here as its going to get very ranty! First up because the tickets have an original value marked on them which was half what we paid! Really shouldn't pre-order Vegas show tickets unless you're desperate for a specific performance!
We did at least get a free upgrade – the place was rather empty and they didn't want everyone sitting at the back so we all got moved forward many rows. Then I took a sneaky photo of the stage as it looked pretty cool!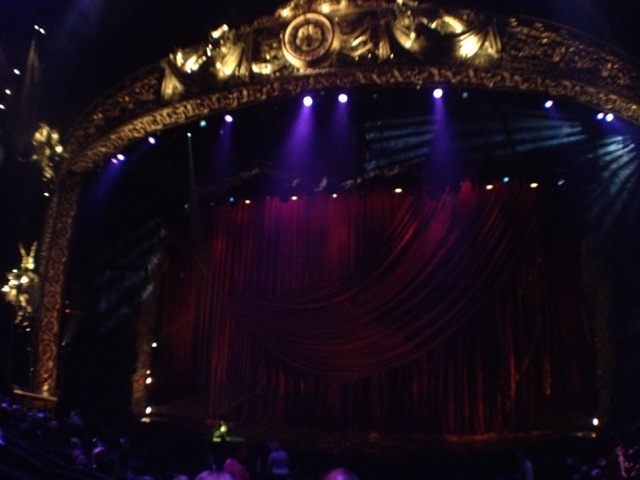 The mechanical rabbits occasionally pulled a human head out of their hat. This was the kind of pretentious nonsense I was expecting. Criss Angel is known for levitating above the Luxor hotel, for walking on water, for doing rather over the top magic. This was also a Cirque show, which should have added to the pretentious nature. Even without watching any of the trailers I was expecting big. Acrobatics, awesome magic, music and entertainment.
I wish I could say I wasn't disappointed. I really do. But it was terrible!
When he wasn't shouting at us and complaining we weren't clapping loud enough, he was showing video clips of the kind of magic we'd been expecting. The only magic he did was disappear himself, or his assistant, and then reappear himself or his assistant. Every time he picked up a piece of fabric you knew what to expect!
He did a piece with some birds, which had a little more of the pretentious theatre I was hoping for, but come on, it was birds! Surely one of the first things magicians learn!
He seemed to be impressed with himself for performing others tricks slightly faster or for using smoke instead of a curtain, but you know what? It's still someone else's trick!
There was nothing unique, nothing really wow worthy, and nothing I hadn't seen done before and better! Even Rick Thomas with his afternoon tiger magic last year had presented these same tricks better, for a family show!
Oh and everyone left going "Wow! That was the best magic I've seen!" – then go watch more magic shows! Any one of the other Vegas shows would have shown you those tricks better, and included something unique. Nyargh!
Okay, I know Penn & Teller have spoilt me. Criss did cut a woman in half quite impressively if you didn't know where to look to know how it was done. No, wait, all he did was stand at the front and shout whilst some freaky rabbits cut the woman in half. *sigh*
Needless to say, I was not impressed. We were both not impressed. We were both ranting rather a lot about how bad the show was and what a waste of our evening and money it was :(