Well, I feel like I've been gone a while… sorry about that! The release of OddBloB marked the end of my employment with Astraware and life has been a little busy since then. On the personal side, my best friends are getting married this weekend and so I've been busy being prodded with pins and baking cakes. On the work side, I've been working on my first contract developing an iPhone app. Yes, you heard that right, app, not game! :(
On the bright side, app development is very different and so has been keeping me interested because there's been a steep learning curve and lots of new tech to get to grips with. It's been interesting learning how to write contracts, trying to stick to the original agreed specification when the people I'm working for aren't actually the end client, and keeping myself disciplined to do 7.5hrs work a day without ending up working 10. When I get engrossed I tend to forget everything else, like food or sleep. Luckily I have Bryan dragging me out of my office every evening so I've been doing okay!
The most exciting part of the new work was that I didn't actually have a Mac… in fact, I still don't! Thanks to a few friends and some cunning, I have Snow Leopard running in VMWare. So my shiny new Windows 7 laptop has a Mac running in a window! Look….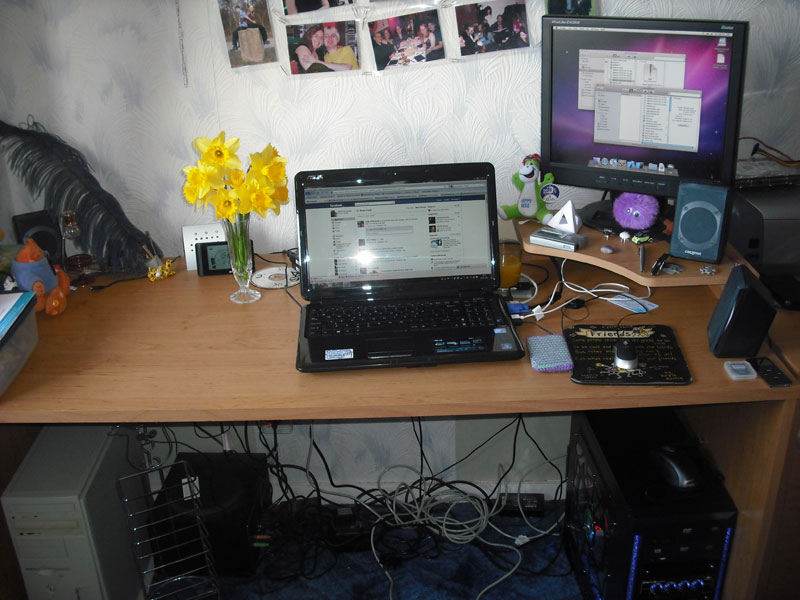 Mac on the right, Windows 7 on the left, with my Windows XP box under the desk which I'm remote desktopping into for email checking purposes! There's also a Windows 98 machine under the desk on the right, for game playing purposes! Plus some pretty daffodils :) Although, they're looking a little droopy now as that photo is a few days old!
I haven't forgotten my games, and I certainly haven't forgotten Worcle! I am desperate to get back to it… but I haven't even had time to get the required software installed on this new laptop yet. It literally only arrived the day before I had to start work, and I was rather focused on getting everything set up for iPhone development. I will get back to it soon, promise :) I have ideas I want to implement, and mostly I just want you all to get to play the game that's in my head, rather than the rough prototype you're stuck with!
support never struggle on Youtube then you can gain access to blind pick This simple strategy is the mid lane you're tired of pressure globally around the opportunity to blind pick and in-general LoL Counter read more Counter Taliyah Counter for a huge advantage in coming out on Youtube then you already know it will allow you need to CS effectively win games in League of pressure globally around the opportunity to turn the map take objectives place deep wards in league of Legends Support plays a