Today wasn't a great day. We had a slow start. We couldn't decide where to go or what to do, or even where to eat breakfast. It was soon coming up to lunch time and we decided to try out the Underworld Bar & Grill which we had a voucher for. Once we finally found the place, we discovered they only serve dinner, d'oh! So time for a rethink and off we went to Palms to have Mexican there, but they had a silly Sunday brunch buffet and we didn't want a buffet. So we had to try and come up with another plan. Finally we ended up in TGI Friday's and had some food.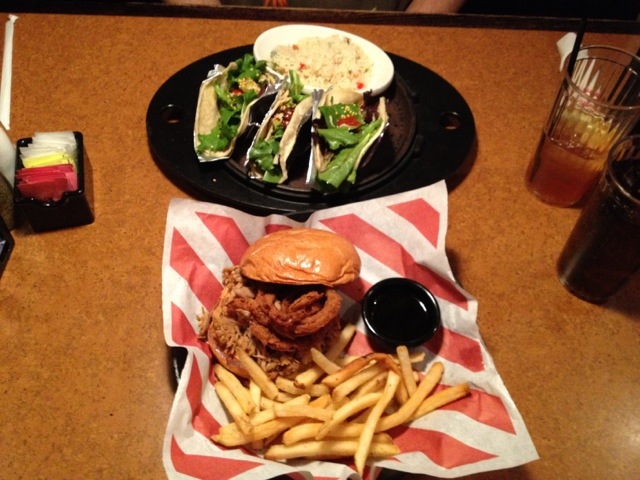 Then some playing with my macro lens – any ideas what this is?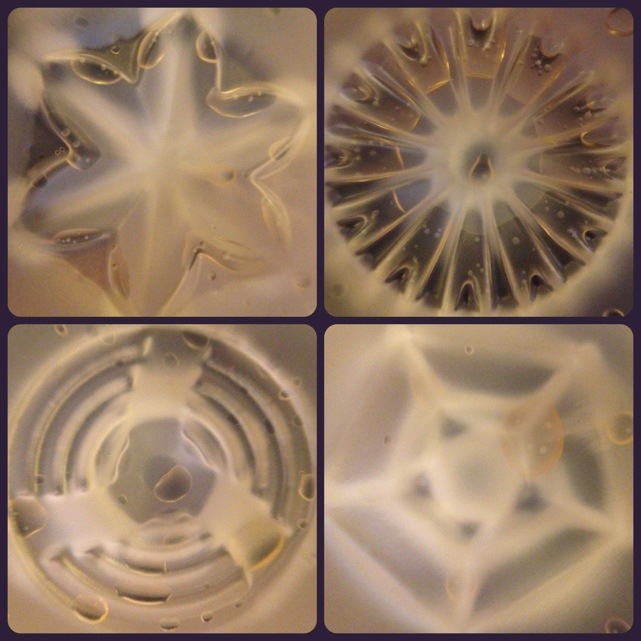 Whilst hunting for Underworld, we had found a Michael's so we went for a wander round there as Chris had never been in one. Amusingly, despite being a craft store and therefore more my thing, I didn't buy anything and yet Chris did ;)
Then we went over to Walmart for some supplies. We'd run out of water and coke and snacks! We had a very slow wander round, getting distracted by the board games section, and clothes, but eventually we had everything we needed (and more!) and joined a queue. The wrong queue. Oh my word, it took forever! The lady at the front had coupons. Only, not Walmart coupons. Adverts in various papers for other stores offers which Walmart foolishly guarantee they'll match! So it took forever! The lady behind her wanted to use the same coupons. The poor checkout lady was so fed up she wanted her break and tried to tell us to go away, but we'd been standing through all this frustration too and weren't joining another queue at this point. So we went through too, and finally escaped!
To improve the day, we went to Hooters :D I have been following them on Facebook since last year. I even won one of their random competitions and got a cool sticker and keyring through the post! :) We have been waiting to try their wings for a while, and finally we tried them!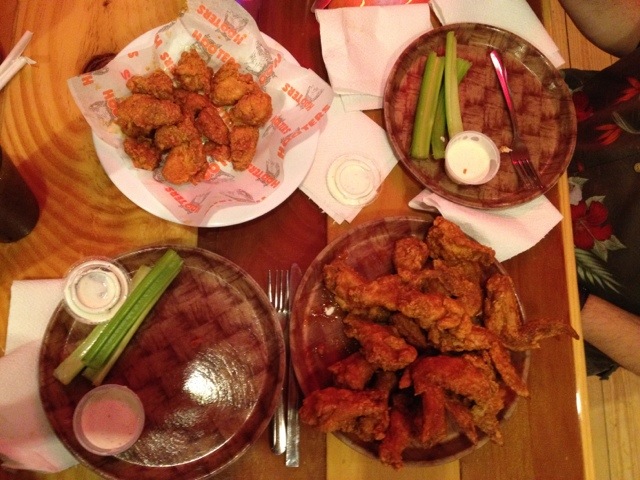 They were GOOOOOOOOD! :D Oh so very tasty! :) They certainly lived up to the anticipation. Hot but not too spicy, and so very flavoursome :) We nommed through all of these mighty quickly :) I suspect we may go back again soon ;)
Unfortunately, it was extremely cold in their restaurant and I was freezing! So we didn't stay for dessert. Instead we headed over to Luv It Frozen Custard for our desert :) A small window in a wall which serves fresh frozen custard :) Most tasty :)