Today we spent the morning eating Pop Tarts and creating our fabulous Coupons! app :) Chris entered all our vouchers into a database with locations and then I made an app to plot them all on a map. This means when we're out and about I can just ask my phone which coupons are nearby and we can see what we've got without having to try and remember them all, or having to look through them each time! Hooray! :)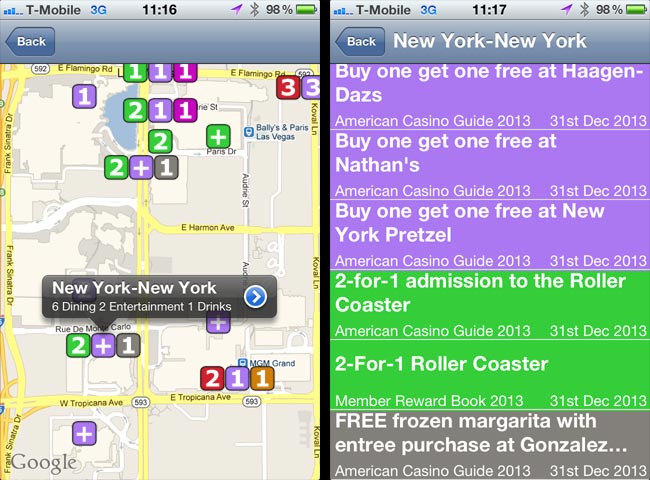 Once it was working, we decided it was time for some proper food and headed over to Bellagio to redeem another MyVegas voucher for a free lunch buffet for two. Another queue but thankfully not too long, and then the queue jumping ability which came with the redemption didn't help all that much either, bah!
There was a reasonable selection of food, some breakfast, salad, sushi, fish, pasta, etc. I had some beef ravioli in a creamy mushroom sauce which was so scrummy I had seconds! :) The other extra tasty part was the bread and butter pudding, which I seem to have regained a love for :) Yummy!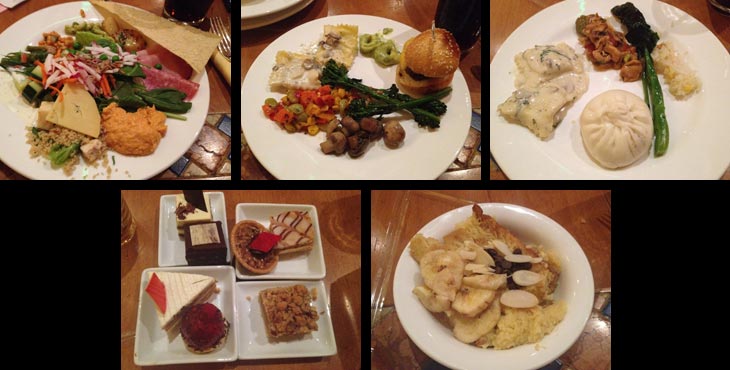 Unfortunately, the service was pretty terrible. Plates weren't cleared between courses, drinks weren't refilled. Given this is one of the more expensive buffets it was a little bit disappointing really.
Then it was back to the Rio for some more video poker :) We had a fairly good sitting with my first (and second!) quad aces! :)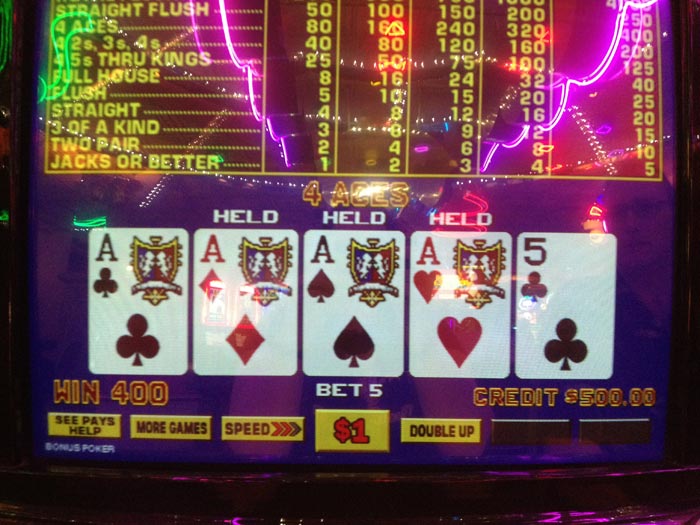 We played about half way through the required points and then decided to take a break. We went over to Palms for their gas card swipe and win – earn 100 points and then random freebie. Amusingly, we both got air fresheners! "Random" is always a touch suspicious when we get the same ;) Then we drove over to one of the Maximum Comics stores hoping for more games. Guess we chose the wrong one of their 3 stores as they didn't have any, but I did get the next True Blood book :)
On the way back Chris started to feel unwell, so we stopped at Walgreens to get him some medicine. We played a little more video poker but not enough as Chris got worse. It would seem something from the Bellagio buffet has given him a very nasty case of food poisoning! :( The rest of the evening was spent in the room and a very restless night :(