Today's first hurdle was that we forgot it was Sunday! Our Palms breakfast voucher we earnt yesterday isn't valid for a Sunday Brunch buffet so we had to do a bit of a rethink!
Since Sam's Town had a 7x points promo we headed over there instead. Chris paid for our buffet with his comps and we had a very pleasant meal whilst we discussed a new app idea :)

After a leisurely breakfast we sat an played for a while to earn some more comp :)
We started heading back to the strip, but stopped at Cosmic Comics for a bit of shopping along the way ;) A little light reading for my holiday and the start of 2 new collections! I'll definitely be back for the next True Blood book too now I've checked which one I already own ;)
Once we were back at the Luxor we headed off on a coupon gathering adventure! All our MyVegas redemptions needed exchanging at the MLife desk in the relevant casino to be turned into coupons we could actually use. Here came a sad discovery that my shiny Gold MLife card means nothing to the queues at these desks, and we had to wait 45 minutes in Excalibur behind a whole lot of new player signups and had a similar wait in New York New York! Ugh!
One of the many reasons we won't be playing to renew the gold status with them this year – it hasn't yet allowed me to jump a single queue or made me feel in any way special. Unlike Chris' (expired) Diamond card which has been serving us very well! So we'll be working towards a proper, new Diamond card with Total Rewards instead :)
We then headed down to Aria to collect our Zarkana ticket – my word it's a long way from the entrance to the box office! At least they had some pretty butterflies! :)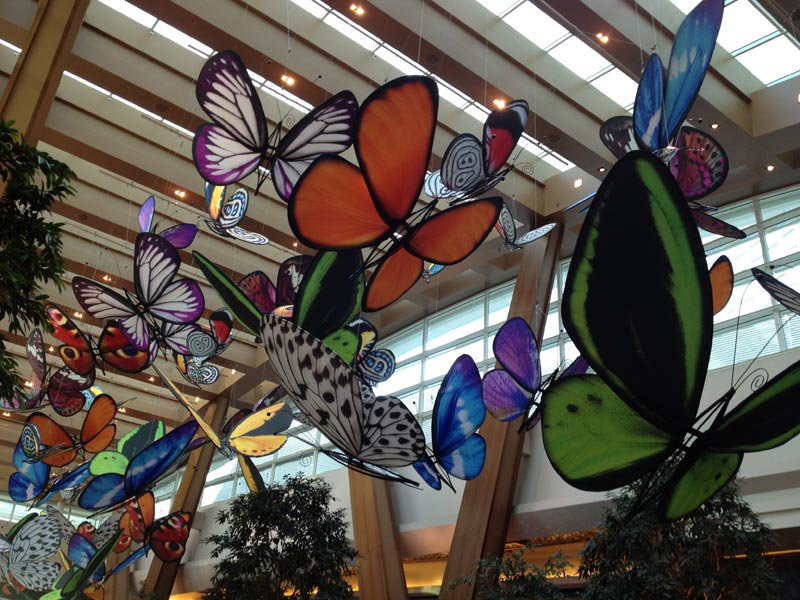 Since we were so far down the strip, we headed over to the mall with the V Theatre to collect some more tickets, and then we were finally done with the coupons :) Time to head back. Everything looks so close in Vegas, but it's just big, and so very far apart! The walk back took rather longer than the walk down as by now I had sore feet and there were no distractions! :(
Back in our room we had another long hot soak in our bath with a view :) Then it was time to consider dinner. We were both exhausted and didn't feel like going far, so we found another coupon for Original Chicken Tenders which was just downstairs, and for actual chicken this time :)
For a "fast food" place, we were very impressed! The chicken was big breast pieces, breaded fresh for us, and then cooked, and the chips were fresh cut and cooked too! The chicken was really tender and the coating so very crispy! It was scrummy and great value with our BOGOF voucher (it would have been good value even without!)
Then we did a little work on our coupon map app thingy before collapsing into bed :)