Thanks to time zone confusion, day 2 started early. Since we knew we wanted breakfast at Hash House and that they didn't open till 7am we had to waste some time reading about the various players club promos for a bit.
Then it was off to the Quad for breakfast. This place is currently undergoing major renovations
So major that we never even saw a casino and missed Hash House entirely the first time! Very bad mess in there at present :( However, HH was wonderful as ever :) Chris used his (expired) Diamond card to skip the line and we ended up in a room we'd never seen before – VIPs only maybe?
Aware that we never manage to finish the food there (portions are HUGE!) I suggested we order a little differently. Rather than a hash each, we shared a hash and a smaller item – a flapjack.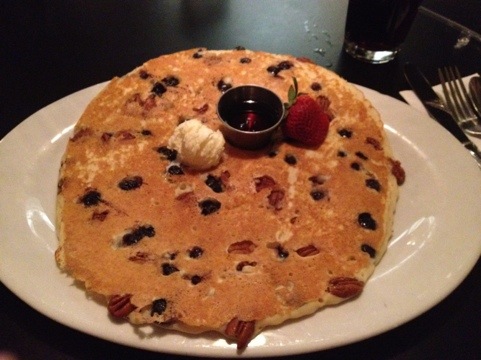 I know what you're thinking, that's a pancake ;)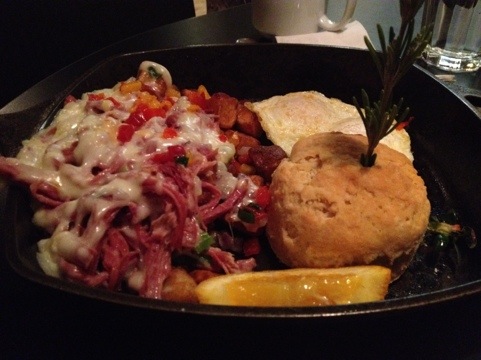 Then again, that's corn beef – not what a British person would expect ;)
Both very tasty and for the first time ever, we cleared our plates! :) Service was great and friendly too :) Used our first coupon – $10 off a $25+ spend :)
After breakfast we went to do some shopping. We needed some supplies from Walmart (drinks, snacks, etc) and Chris got a haircut (ridiculously long time to make hair short!) Plus a trip to T-Mobile to get SIM cards for our phones. Conveniently, they had just today started selling iPhones! So it was very quick and easy to get us each a 1 month plan with unlimited data – hooray! :)
Then it was back to the room to make the most of the bath with a view whilst we planned more of the holiday :)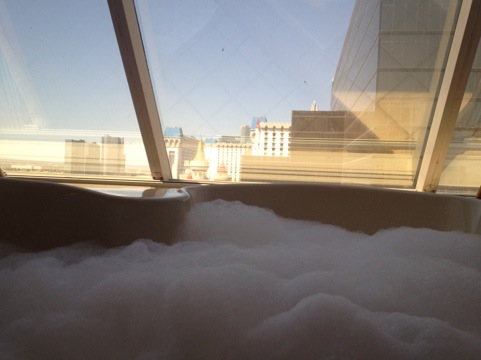 Gold Coast had a 7x points promo so after a long soak we headed over there to spend an hour grabbing some points (as points turn into free foods!) and then it was time for dinner :)
Our first proper dinner choice was easy – Hooters! :) Whilst I have been making similar wings ever since our last trip, we were both craving the real thing! :)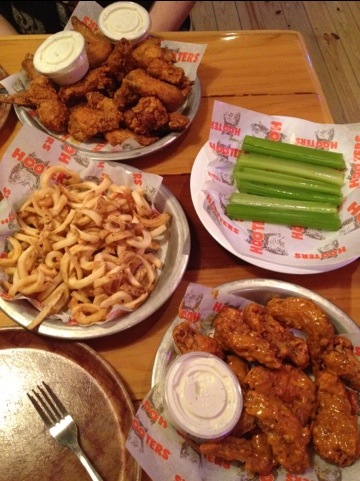 20 medium wings and 10 spicy garlic, plus chips and celery :) Amusingly, I've been increasing the heat in mine over time, and always add a lot of garlic, so the latter tasted more like what I now make :) Next time we're going to try hot ones ;)
After dinner we were exhausted! All attempts to concentrate failed so it was a very early night!