Today started even earlier! Chris was awake at 4am and I only lasted until 5:30! Obviously not a whole lot to do at that time of the morning, so we spent some time learning some of the strategy for a new type of video poker and trying to plan the day.
We hunted through our piles of vouchers for something breakfasty and found a "second item free" for Original Chicken Tenders. Amusingly, their breakfast menu contains no chicken!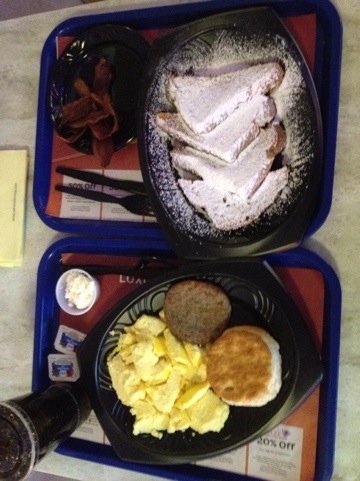 We each had a platter, except apparently Chris' bacon didn't fit on with the French toast and required a second plate!
After food we headed out to Terribles and then Palms to check out the promos. We were tempted by a gig at Palms tonight but figured we'd probably be asleep before it started! They did have a play 4 buffet promo on though, so we spent a little while on some 50 line Jacks or Better to earn tomorrows breakfast :)
Then it was off for a little shopping. I'd found a place called Little Shop of Magic which claimed to sell board games so we headed there :) It was a nice little place with lots of tables set out which were slowly filling up with people playing Pokemon. We spent about an hour looking over the games, working out which ones we couldn't get from our local shop, and which ones wouldn't be too heavy to take home, for those who know us we love gambling games (visit site now) but this time we had to go with these because of the kids.
Eventually we chose two: Food Fight and Legendary. The first is a very silly card game where you have to battle over meals with your food based troops. The second is a deck building game like Dominion but with a Marvel comic book theme, so has Spiderman and Hulk :)
We found a nearby park and a shaded picnic table and sat down to play Food Fight. Despite the breeze trying to steal our cards and the fairly long rules, we did manage to complete a game :) Chris won by using this wonderful card: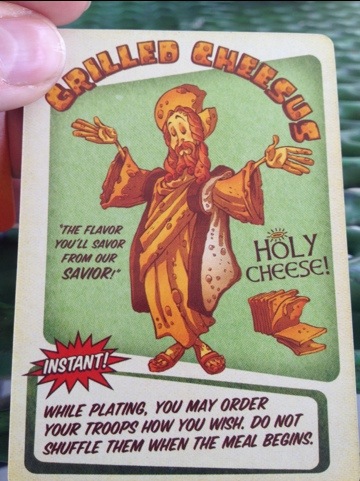 We decided not to battle the breeze any longer and headed back to our room to play Legendary. This game has many cards to sort before first play and an awful lot of rules! Plus the box isn't as awesome as Dominion's so it doesn't sort so nicely into it. It also has a rather large board! Only just fit on the little table!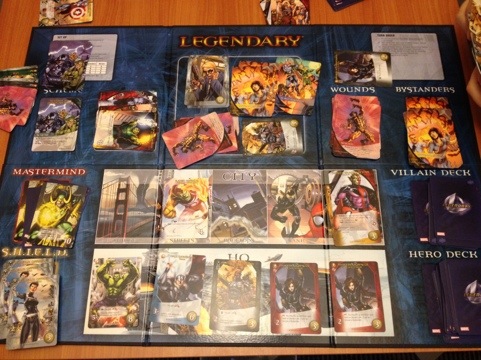 We found the artwork on the cards made it hard to see what anything was at a glance, and playing sideways clearly didn't help. That said, the theming is good fun, and the way the game fights back is good too :)
After a couple of games it was time to head downstairs for some dinner. Thanks to playing MyVegas on Facebook, we had a free buffet for 2 to redeem and we made the most of it :) Oddly, downstairs in the buffet, the original Egyptian theming remains!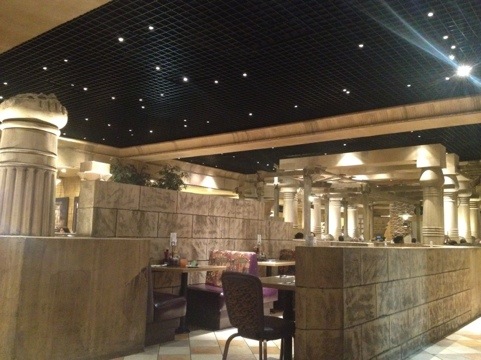 Whereas elsewhere you'd not really know you were inside a pyramid shaped building if you didn't look up! The food was all tasty and a number of courses were consumed ;)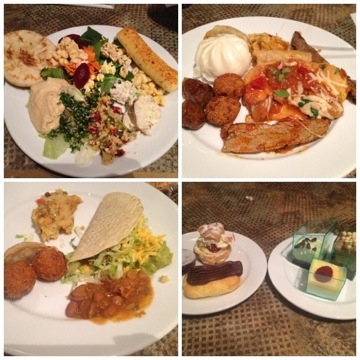 After dinner we were pretty tired, but managed another game each of Food Fight and Legendary before bed :)