Today was a day of hotel moving. We had a fairly leisurely packing session and then a fight with the TV which wouldn't check us out! Apparently everyone was busy trying to do the same thing, so we had to use the express checkout forms by the elevators. At least we didn't have to go to the front desk and queue! Bye bye lovely suite on the 20th floor of a pyramid!
Then we bundled everything into the car and headed over to Caesars. Chris used the power of his (expired) Diamond card to jump the queue and got us checked in pretty quickly. Only a normal room on the 8th floor here, and the annoyance of no bathroom door. On the bright side, lots of free toiletries: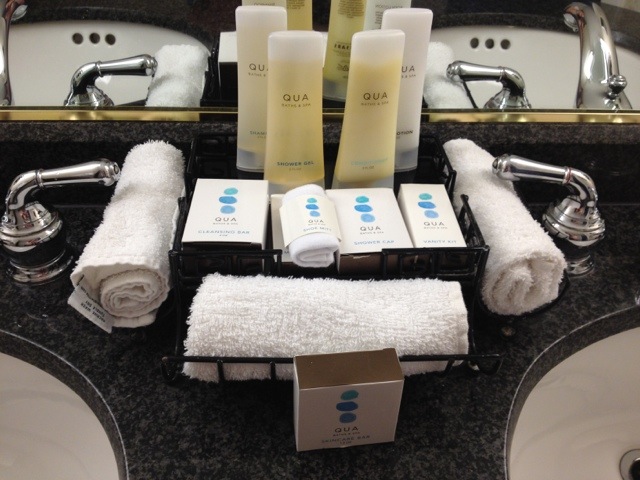 By this point, it was lunch time and we'd not had any breakfast! So we wandered over to Hash House a Go Go in Imperial Palace to get some food. There was a huge queue and we almost considered a change of venue, till Chris flashed his (still expired!) Diamond card and we were seated immediately, hehe :)
Hash House serves too much food. We have never, and I kinda hope will never, eat an entire meal. Whether you order breakfast, lunch or dinner, it's just too much! We ordered from the "Farm Benedicts" section, I had the Sage Fried Chicken, and Chris had the Hammered Pork Tenderloin. Huge pieces of meat served on top of a split biscuit, on top of mashed potatoes. Loads of really tasty food :D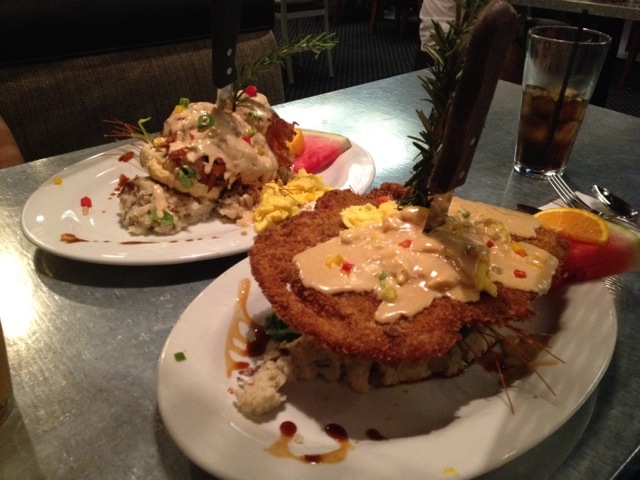 Now that we were really full we thought we'd go check out the pools at Caesars :) They have a very impressive looking pool area with a number of large pools. There's a big round one with fountains! :) I didn't take my camera down though as we were swimming! Had a nice splash about until we declared the water too cold!
Next it was time for the final play session to get me up to Gold with M Life :) This was preceded by a trip to the Paris hotel to get me a silly drink in an Eiffel Tower glass :)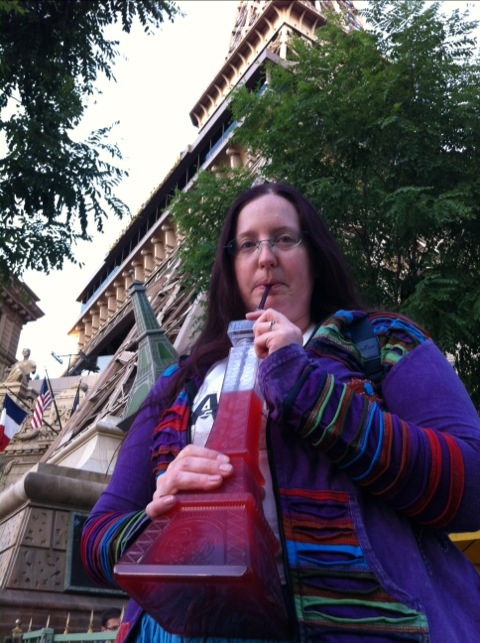 Alas, it only lasted as long as we needed to play, as it then kinda collapsed under its own weight, slipping out of my hand and spilling my lovely frozen strawberry daiquiri all over the Bellagio carpet with piece of plastic Eiffel Tower going everywhere too :( Much sadness :( Cool though the glass looks, it's very flimsy and doesn't cope with the weight of the drink. I would recommend avoiding these ones! :(
Moving on, yay gold card! :) Hopefully this will mean more awesome room offers :)
At this point it was kinda late and we needed dinner but didn't know what. Then I remembered I'd had a text from Sonic for 99c hot dogs! So we headed over there and had something to eat :)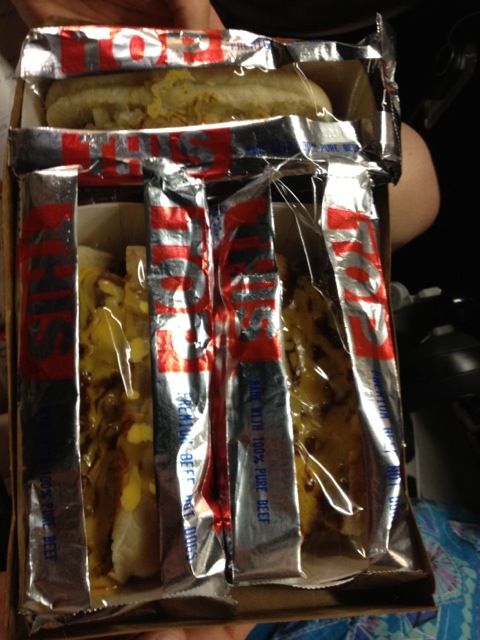 This wasn't quite enough, so we headed over to Palms for a comped frozen yogurt based dessert (though mostly mine was toppings, hehe!) :)