Another fairly early start, but with no hot air balloon ride to inspire us to jump out of bed we were a little slow. We eventually decided to head over to Palms for breakfast as Chris has lots of comp to use there, first buffet of the holiday :)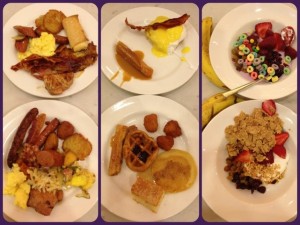 Then we headed over to the Bellagio to play some video poker. It took a while to find the correct machine (for those who don't know, some machines have better pay tables than others, so you need to find the right one to get a much lower expected loss). We played for about 2 hours, clocking up tier credit points (lovely as my Pearl M Life card is, we want to get up to Gold, so we can enjoy priority parking and get more free room offers!) :)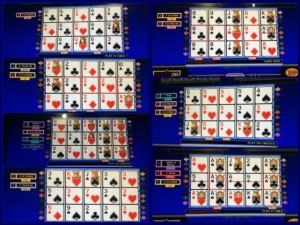 There was a crazy vending machine…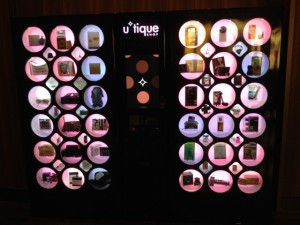 We thought this was an awesomely huge LED sign when we walked past the first time… the second time it was displaying a Windows error message which spoilt the illusion :(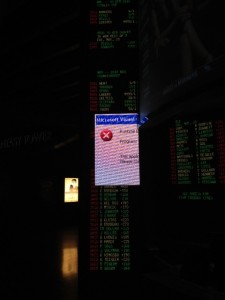 We wandered through the conservatory at the Bellagio to take some photos :)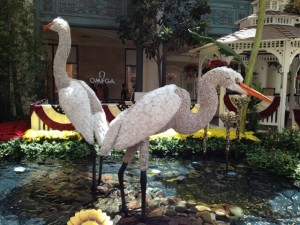 Plus, of course, the obligatory photo of the Bellagio ceiling: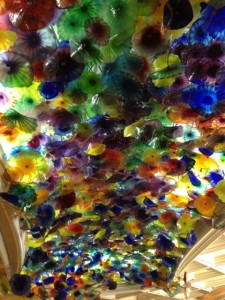 Then back to the room to catch up on some work and blogging… at least, that was the plan, but as soon as we got there we realised it was 1pm and we were hungry for some lunch! After a little research we decided to go down to Tacos & Tequilas for some half price appetisers during their happy hour. We shared 4 starters rather than having any entrees, and they were very nice :) Then came time for confusion! The bill eventually arrived and everything was full price! We questioned it and the server vanished for a while. He returned and explained that we didn't have the Happy Hour starters, which are smaller and have less garnish, but he had fixed the bill for us and removed one starter completely to apologise for the confusion as he'd never asked if we wanted happy hour appetisers. So wait, the half price starters aren't really half price… they're just cheaper alternatives! Very odd! We used some of my free comp to pay and left, having eaten well and for a very reasonable price ;)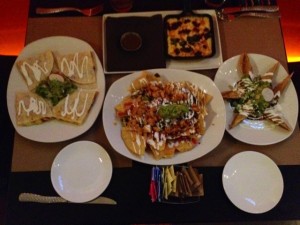 After that we did actually return to the room to do some work, for a little while ;) Then it was off to Hard Rock for Incubus concert :) Neither of us were overly familiar with their songs, Chris knew a couple from Rock Band and I think I knew an earlier album, but regardless they were very good :) There were barriers to lean on which was convenient as we both had very sore feet!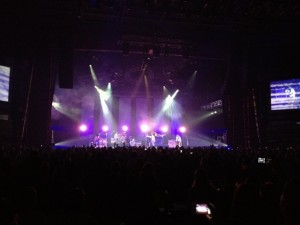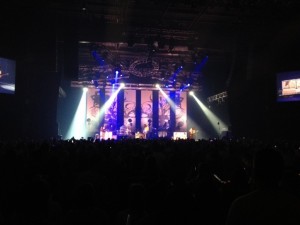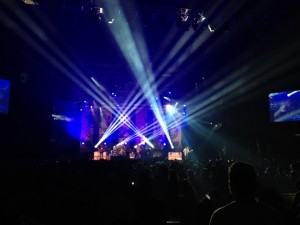 Bought a tshirt on the way out (obviously!) and then off to find some food. On the way back to the car we noticed something odd about the new towers at the Hard Rock Hotel… you can see in the windows!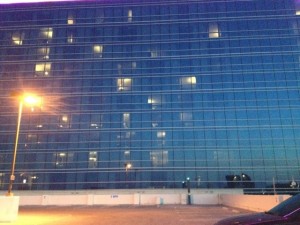 They look like the blackout windows on all the other hotels… the ones you can see out but not in… but these ones you could most certainly see in! I had to wait till there was no one obviously standing in a window so I could take that one. Must remember not to get changed in front of the window when we're staying there later in the holiday!
What do you eat at almost midnight? Burgers delivered on skates, yay! :)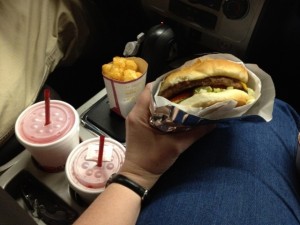 Then it was time to collapse in bed, after a little soak in the bath :)