We woke up early (5am) and decided to make the most of it and headed straight back to the Grand Canyon. We wanted to try going on the red route shuttle buses to see the canyon from a different view. It's an 80 minute round trip of you don't get off the bus but it has a number of view points to stop at and take photos, with another bus in 15 minutes to hop back on :)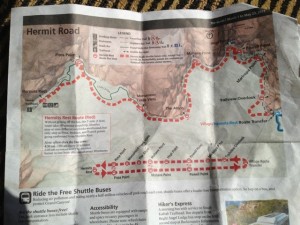 Even waiting for the first bus there was a pretty view :)
The first stop gives a lovely view of the Bright Angel trail which we had attempted yesterday. Now we could see where we got to and where the rest stop was… Glad we didn't keep going, it was a long way still!
We walked to the next 3 stops as it wasn't far, taking photos along the way :)
At Hopi Point we hopped on the next bus and then off again at The Abyss cos it had a cool name. Chris made me sit on a rock for a photo!
At this point we decided we had best stay on the bus as time was ticking by faster than expected and we really wanted to get to the end.
At the 'end' there's a gift shop which has some tshirts you can only get there, saying things like "I hiked to Hermits Rest" – having used the bus for most of it we didn't feel we'd earnt one of those! We did buy a cinnamon roll each from the snack shop to stop our grumbling tummies though as we'd skipped breakfast!
We then hopped on the next bus and back to our car, via Kolb Studio so I could adopt a lion :)
We bought some more souvenirs at the hotel gift shop and then back to the room to pack up and head off. The drive was rather dull, no exciting scenery at all! The best we had was "Ooo, there's a wind farm" but it was too far away to photograph. We did get to laugh at occasional silly road signs: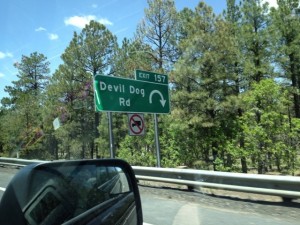 Once my phone signal improved I started researching lunch options. The only town on the way is Kingman so I asked Trip Advisor where to eat and the number one place was Redneck's Southern Pit BBQ which was fab! You can read my review over on TA – Lunch Review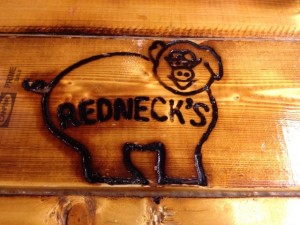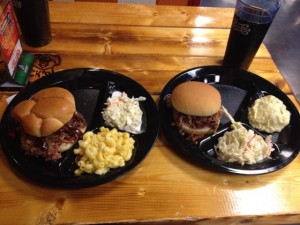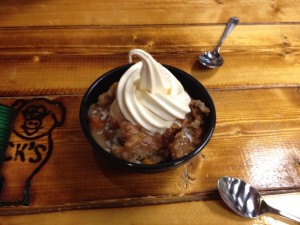 The next stretch was equally boring. There was one scenic view point:
Then we drove straight past the Hoover Dam without even seeing it! Apparently the new bridge doesn't give you any view at all!
The view got more exciting once we got near Vegas and started playing spot the hotel through the haze :) Eventually we arrived at Luxor! Yay! :)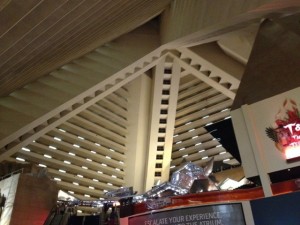 We were pleasantly surprised to discover that even at Pearl we could use the express check in line, rather than the ever growing normal line. Just one person in front of us before I did my first ever check in (everything is usually in Chris' name!) It was very quick and easy and suddenly we were in this awesome pyramid suite for free! :) We have 3 free nights and then $112 for the last night, which is awesome since we were expecting to pay over $900 for the room!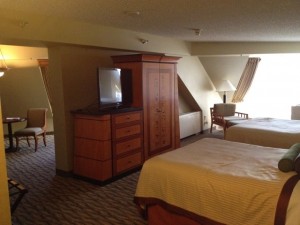 After we'd taken some photos of the room and finished marvelling at the awesome view, we headed of to Walmart for supplies of the snackable and drinkable kinds :) This was followed by enjoying a bath with a view back in our room :)
Then it was time for food. We had reservations at 9:30 but after walking across town too quickly (we were there before 9) and then realising the food we'd been eyeing up on their menu when we'd booked was basically what we had for lunch, we abandoned that plan. We walked a little slower back and stopped at Man Chu Wok for dinner in Monte Carlo. It's fast food Chinese which was a quick easy dinner :)
Alas, when we returned to our room we called to check the hot air balloon flight time for the morning to find it was cancelled :( Time to collapse into bed and find a new way to spend tomorrow.