After a very late night we had a bit of a lie in this morning – didn't get up till 11am! :o The bed here is apparently very comfy and we're both sleeping very well in it, which is good :D
We decided to go to Hash House for our brunch, figuring the Diamond card did a good job of queue jumping the last time. It did the same again this time, although into a very noisy room! Last visit had been early morning, and we'd been seated in the special Diamond room. Apparently lunch time in the main room is rather different! Ugh!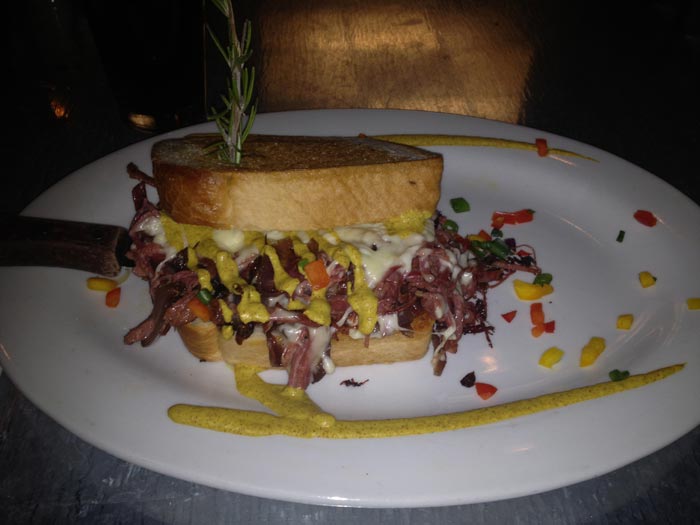 Still, the food was tasty once it came and it did quieten down during the course of our meal. I had the Pub Crawl sandwich – more of their tasty corned beef with onion and pepper, cheese and mustard, with fries. Chris had the Pork Tenderloin Benedict, which was huge! :) The funniest thing about being at Hash House is watching everyones reactions when their food arrives. Everyone, without exception, goes "Wow! How am I going to eat all of that?!" and has to take a photo ;) Lots of people taking food home to tackle again later! :)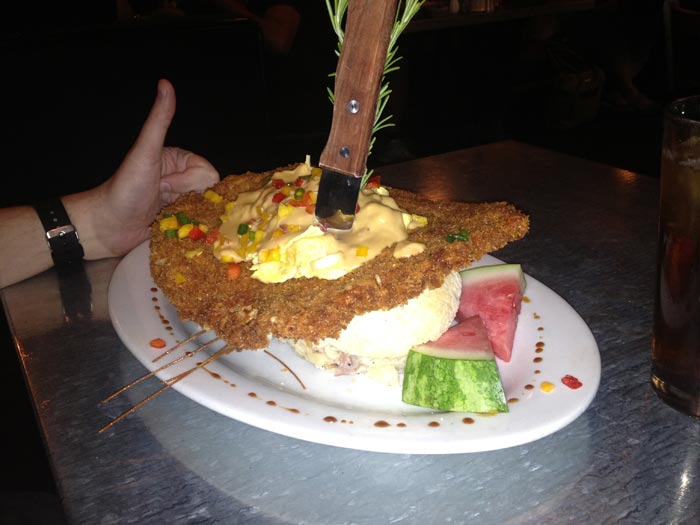 Once we had full tummies we headed over to Target on a bag purchasing mission! 2 of our bags are about ready to give up – the wheely duffle has stopped wheeling and one of the other duffles has a strap about to break :( So we went and bought new bags, very exciting :) Still, now we stand more chance of getting all our new games home ;)
There was then a lazy afternoon whilst we tried to decide what to do. We have a difficult decision to make. We originally planned to stay at Hooters for the rest of the trip, but couldn't get much of a discount on the room as we wanted the posh suite and the casino host changed mid arranging, and our play didn't look like enough to qualify for much. After all our playing at Rio we managed to get a free room offer for the last 5 nights of our stay. I tried to contact D'Ette to change our reservation and heard nothing. Upon checking in, we were told we could just check out early and that would be fine. No sign of D'Ette or anyone else in the Casino Host office, and the Players Club desk now just has a sign telling you to go to the cashier.
We figured that despite the awesomeness of the room, the comfortableness of the bed, the great location which allows us to walk places and so Chris can drink, but yet is slightly off the strip so easier parking and easier to get out and do things, despite all that we should probably move to the Rio to save the $700 as there seemed to be no way our play was going to get us the room here cheaper with no one to talk to! :(
We went downstairs to play some video poker anyway, figuring just on the off chance we spotted someone we wanted to be able to say we had played, but not much as there was no one around, plus, it's a great place to play with good music :) Whilst we were playing someone came and said hi! His name was Dane I believe, and he welcomed us back to the casino, asked if we were staying there, and suggested we charge any meals to our room so that we could go and talk to someone at the "Ambassadors Desk" or someone in the Casino Host office as our play should at least get us some free food!
Wait. Hang on just a minute. What just happened?! You mean, there's still a casino host? We've seen no sign of one! The desk is almost always unmanned! We'd given up all hope of our play being worth anything here! Now it might be?!
So now we're all undecided again! We love being at Hooters, but we also love free rooms ;) Unfortunately we have no idea how much play we need to make the room free, nor have we yet seen anyone to talk to, other than Dane who caught us off guard and we failed to ask any questions!
Still, it made the rest of the evening's play more fun :) Eventually there was another pina colada (the waitress was nowhere to be seen for ages!) and then we went and had some midnight wings :)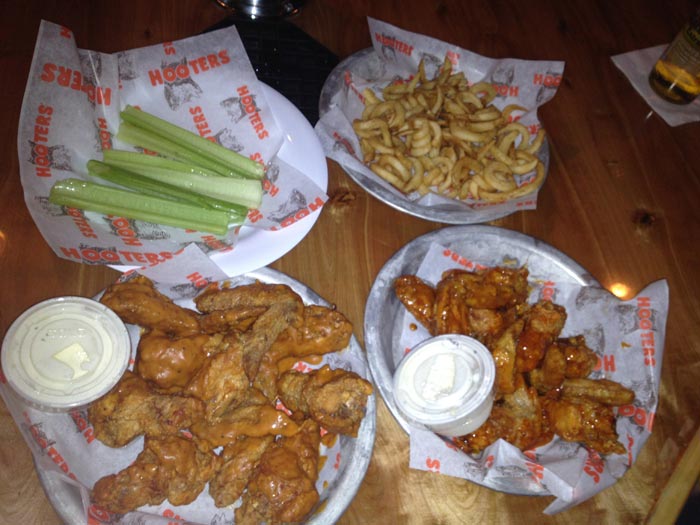 The evening ended with quad aces on a $1 machine, giving us a nice $400 win before bed :)