Today we were up bright and early to head over to Downtown and get covered in bubbles! :) There were a lot of people all eager to do the same! We squished into the big queue of people all eager to run and waited. And waited.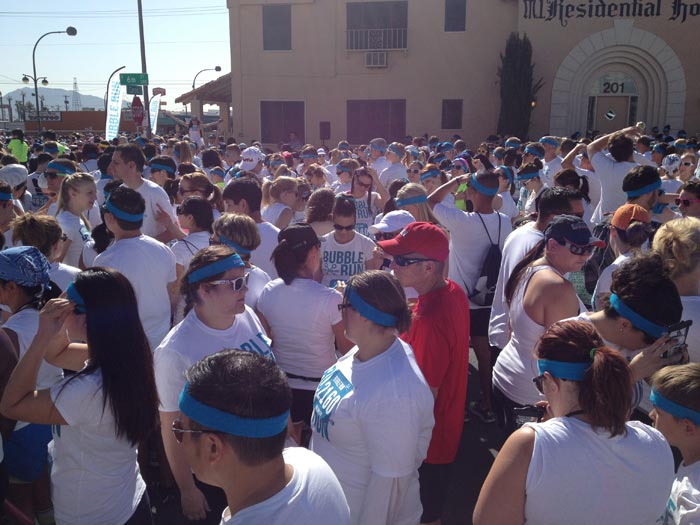 Oh my goodness it was hot standing still waiting to be allowed to start! The original information had said 500 runners every 3 minutes until 9:30 when they'd let the rest go. Seems they decided 100 runners every 3 minutes was better… and so it took ages! Eventually we could see the start line!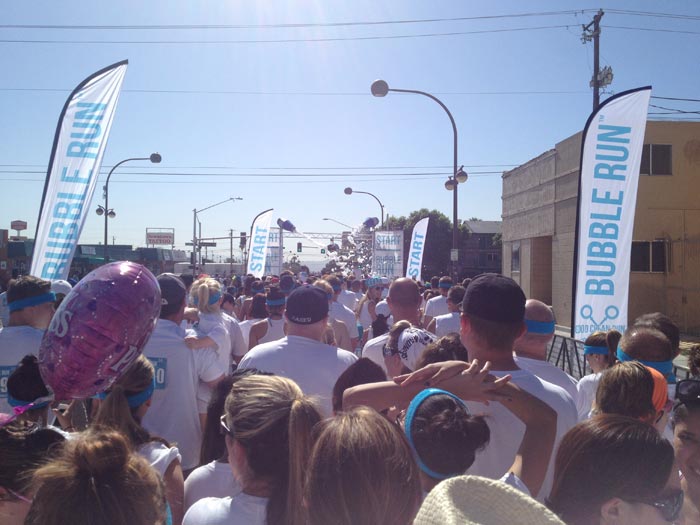 Then we could finally see some bubbles! :D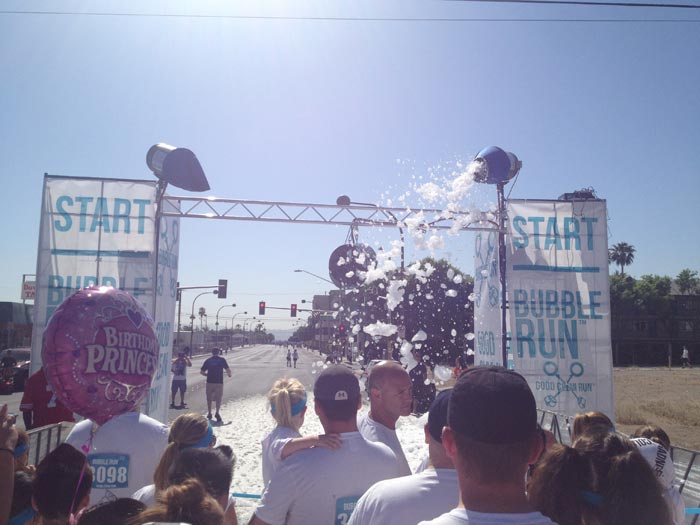 Then we were off! Hooray! :) I know it's called a run, but we were walking, and so were a lot of other people! ;)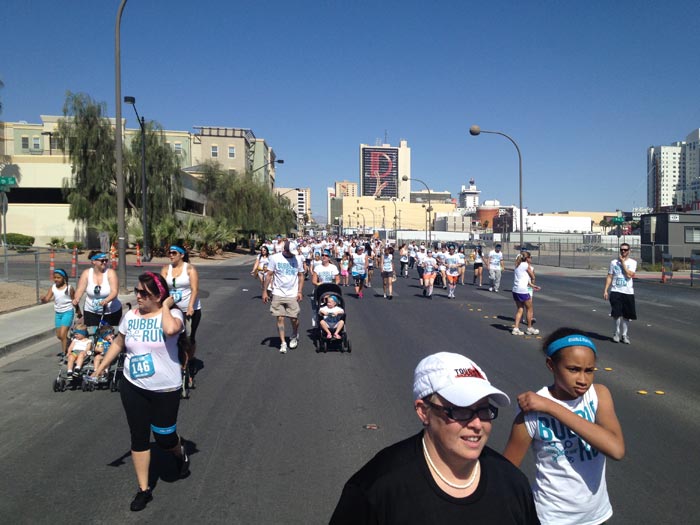 After a while we came across the first set of coloured bubbles :) There were 4 in total – red, green, blue and yellow. They were dyed with something, and apparently had a taste, though we didn't try eating any! We made sure to walk through the middle where the bubbles were spewing out for maximum coverage! :D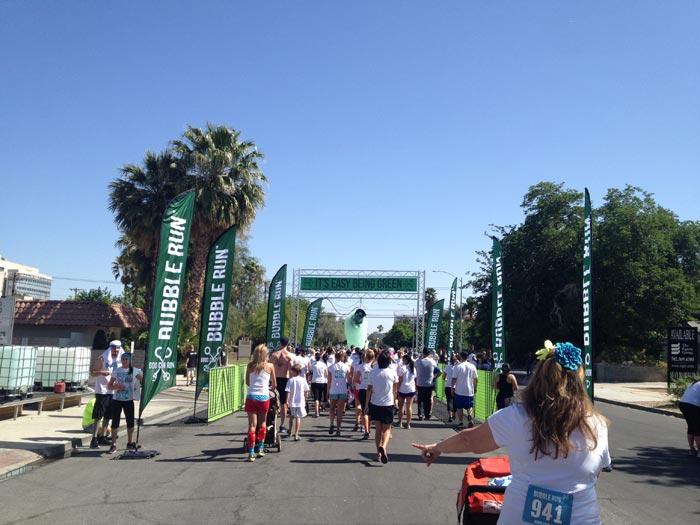 Lots of people seemed to either be avoiding the bubbles or just didn't care – bah! We were there for the bubbles! :D We might not have won fastest time, but we were definitely some of the most colourful people by the end of the race! :D There was an after party with tasty bananas and loud music and more green bubbles! These ones we were allowed to stand under, and so everyone was! It's fun being covered in bubbles :D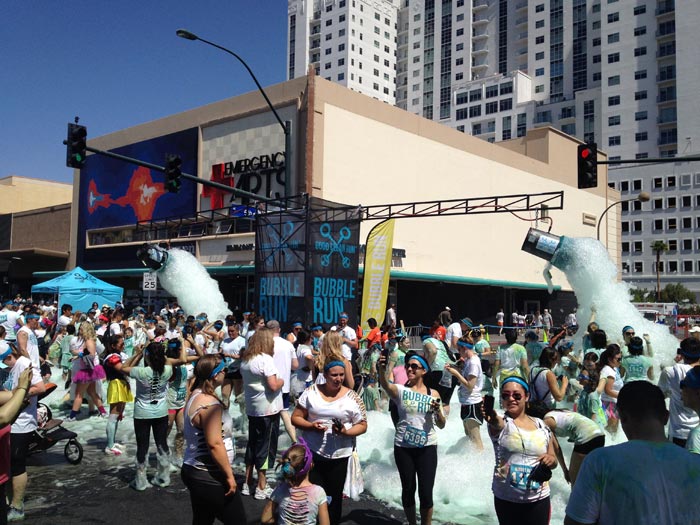 Here's the result of the colourful bubbles on our shirts :)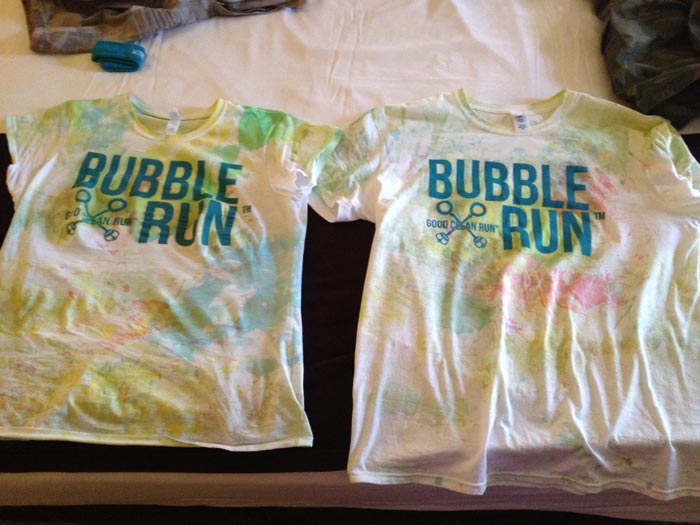 It wasn't just our shirts that were covered – we were too! Head to toe in random colours! :) We were also very hungry having done this without any breakfast. So we needed to try and find somewhere we could have free food where we would be allowed in covered in colour ;) Alas, Tony Roma's didn't open until 4:30 so we couldn't have ribs for brunch. Instead we headed over to the Palms figuring we'd be alright in their food court and had free Panda Express instead :)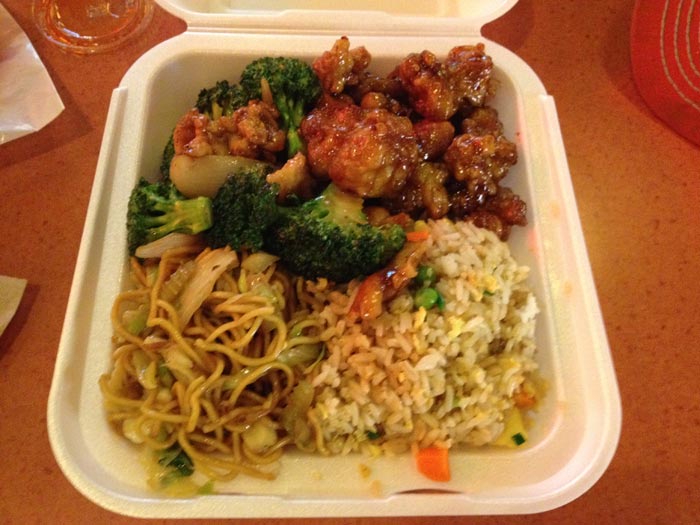 Then it was time for a bath! A long soak to try and get some of this colour off! It was supposed to just wash off, but it wasn't budging without some effort! We were glad for the jacuzzi at this point, and made very green water, hehe :D
We had an afternoon of computer usage – catching up on emails and blog writing. Then a little bit of video poker and my first alcoholic drink of the trip! :o When the cocktail waitress came round we actually said yes, and I had a pina colada :) It was scrummy! Never had one before, will be having more ;)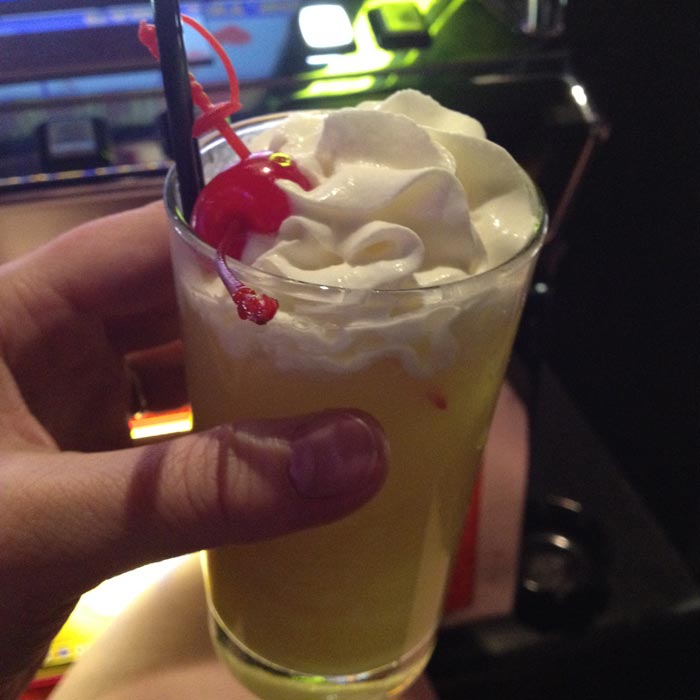 We needed to be down by Planet Hollywood for our show later so we headed off to find food along the way. Given it was a Saturday night we were expecting everywhere to be busy, but since we had a voucher for Nine Fine Irishmen we stopped there on our way. There was a 40 minute wait for a table… until Chris mentioned my Gold card and upon showing them that we got seated straight away! :o Wow! My Gold card actually let us jump a line! :D First time for everything ;)
It's an Irish pub and there was a live band playing :) We had a beer & cheese dip to start, and then I had bangers and mash (I can't resist when there's a chance of British style sausages!) and Chris had some pork. It was all very tasty :D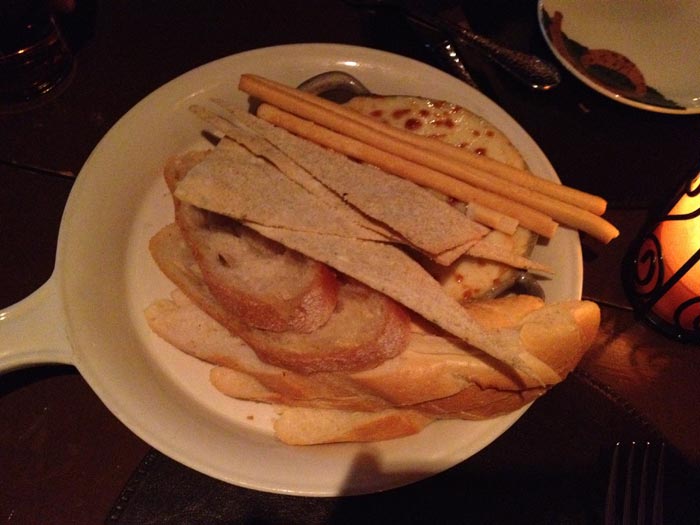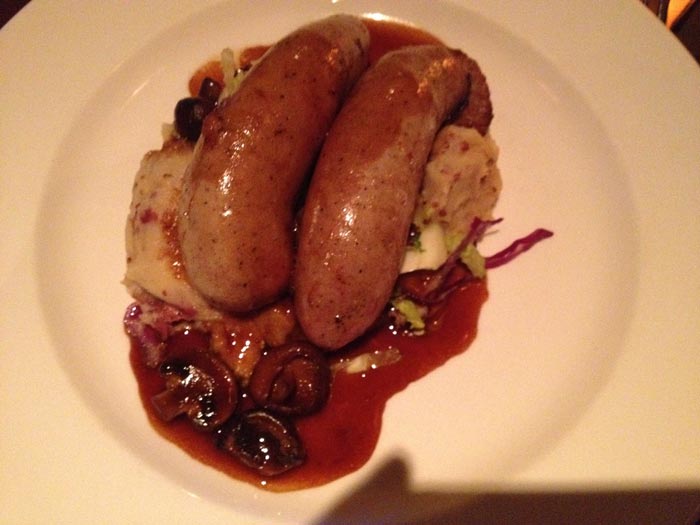 The meal was mostly paid for with the MyVegas voucher and then the balance paid for with my MLife comp – yay for free food! :D
Then it was off to the V Theatre for our evenings entertainment – Evil Dead the Musical! :) For some reason we had VIP seating – I think what it meant was the section between the splatter zone and the cheap seats ;) But it meant silliness when we were greeted by one of the dead and had our photo taken, royalty from Yugoslavia ;) There was some annoying waiting around as the show before had started late so we couldn't get into the theatre! Ugh!
The show itself was rather good :) Very, very silly with a lot of over the top splatter and silly songs :) Having just watched the first film I was impressed with how similar it was, picking up on all the ridiculous bits and making a mockery of them ;) I'm guessing the bits I didn't know were from the other films, which I now want to watch! :D Alas, no photos, as we weren't allowed to take any, nor a cool tshirt as they didn't have any :( Chris has ordered the soundtrack CD from Amazon though ;)