Today started with a trip over to Sam's Town to make the most of their 7x points day. We sat and played Video Poker for a couple of hours and between us earnt almost $70 of food comp! Yay! :)
Then we headed over to Rock'n'Ritas to use one of our MyVegas coupons for a free meal. We'd swapped the MyVegas coupon for an actual coupon when we were at Circus Circus yesterday, and unlike most of them, it was only valid for 3 days instead of 30! So we thought we'd best use it quick!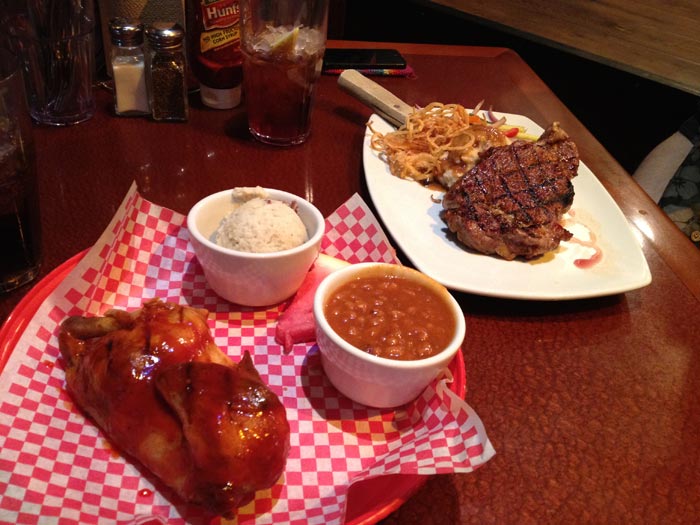 I had BBQ chicken with garlic mash and beans. The chicken was nice and tasty, as was the mash :) The beans were a little sweet for my still sore tummy though. The food was good, but the place lacked atmosphere. Despite the name, there was no music playing, just some basketball on TV screens no one was watching. The entertainment was mostly provided by a guy making a huge balloon sculpture for a kid, which turned out to be the tow truck from Cars and big enough to fit over the small childs head and be worn! It was fab! :)
As we were in Circus Circus and they had an offer on chips, Chris decided to do a little gambling whilst I watched. I appear to be a bit of a bad luck charm though, as I've never seen him do very well out of these "Buy $20 get $30 promo chips" offers. He turned $60 into $90 of chips, and then back into $30 via a Blackjack table, not the best demonstration of making free money ;)
Soon it was time for Penn & Teller :) We went up on stage and inspected the box and signed the envelope, like all good audience members should, and then enjoyed the show :)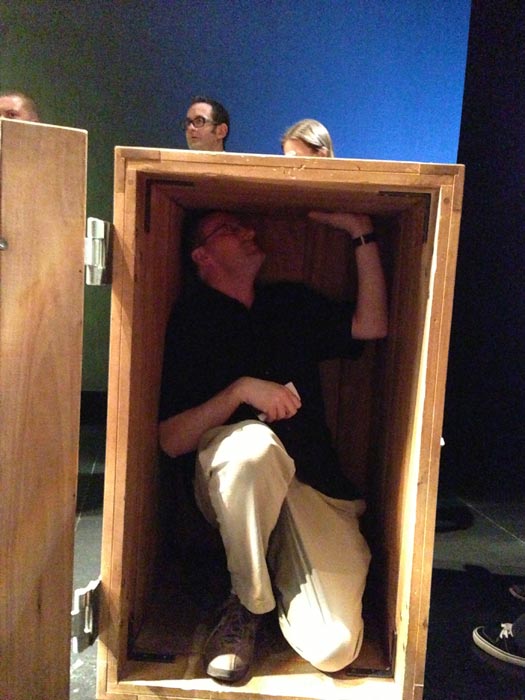 Mostly it was the same show we'd seen last time. There was a new bit with Teller being a Teapot and Penn singing… which was a touch weird but funny :) Even having seen it before, the show was very good. They're very enthusiastic and it's not just about a trick. If you ever get the chance, you should definitely see them :)
Then it was back to the room and a quick game of Food Fight which I lost miserably before bed. The game is good fun mostly, but sometimes the cards are just mean and I just watched all of my troops get beaten, barely making a dent in Chris' hand. Ho hum!