No, not a proposal for you, dear readers ;)
There's one day, every four years, when tradition allows a reversal of roles. There had been hinting from Chris that he thought this a fabulous day, and I had been contemplating for a while whether I should go for it and take the pressure of "that perfect romantic moment" away from him.
Then along came Gü asking for any ladies thinking of asking the question as they wanted to make it extra special. It piqued my interest so I replied and then forgot about it for a while.
On the 21st an email appeared from them with the offer of a Gü chocolate heart filled with truffles, and a message of my choice iced on top. So I thought and I contemplated and I figured even if I didn't go through with it, yay for chocolate! :) I chatted with Laura and arranged the message and delivery for the 28th and then I started wondering what would make that "perfect moment".
A quick google later and I'd found a lovely looking 5 star hotel and spa just 20 minutes away! I was amazed there could be somewhere so close which would fit my requirements, so I sent them an email to check that the recent bad review on Trip Advisor wasn't normal. Lucy assured me it was just a grumpy man who'd tried to cancel his 12 month gym membership and not taken kindly to having to pay for the full 12 months… since I wasn't intending to join the gym this was fine by me ;) Lucy and Laura were the only people who knew of my plan beforehand and were both very encouraging :) Lucy arranged for a complimentary bottle of wine to help calm my nerves for the big question :)
Then, the challenge of a gift. We have an attachment to toucans, those of you who know me well have probably seen the toucan on my bracelet, so I decided he should have a toucan to match. I googled around some more, looking for a toucan (key)ring seemed appropriate. I finally found something I thought might work, and it turned out despite being on eBay, it was actually in a shop just down the road! I let fate guide me and headed over there that afternoon to buy it :)
Planning all sorted, I just had to wait for the day, and then manage to drag Chris away from his desk ;)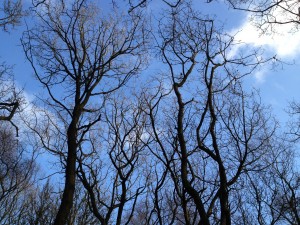 After a little tour of the facilities and our welcome juice, we went for a walk around the grounds. The sun had come out and the skies had cleared. It was warm enough to walk just in our tshirts through their little wooded area :)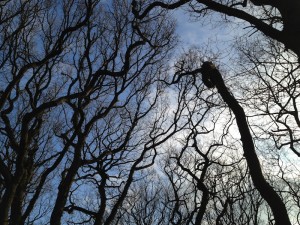 After this point, there aren't many photos because we discovered there was no signal on our phones! Absolutely no service whatsoever across the whole place! Something of a surprise, but actually very nice to escape from work completely for 24 hours :) So we mostly didn't take our phones with us and hence no camera!
We spent the afternoon making use of the spa facilities – sauna, steam room, hydrotherapy pool and a swimming pool :) Much relaxation and warmth :) Then back to our room for a little while before dinner. We weren't sure what to expect of the 5 star dinner, whilst the menu had sounded fine I had been wary that it might be tiny gourmet foods, so had packed lots of snacks. I needn't have worried, there was lots of food and we were stuffed afterwards! I had the silliest crispy shredded duck pancake ever – it was in fact a Staffordshire oatcake rather than a pancake :D Now I want to make my own that way too :) Whilst Chris started with some garlic mushroom bruschetta which was most tasty. For mains I had some pork with the yummiest crackling *ever* and Chris had a tasty steak :) His steak came with triple cooked chips – why 3 times? We don't know… but they tasted good :)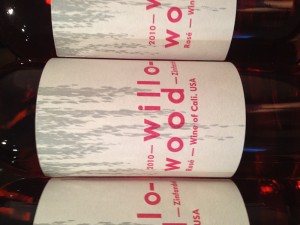 We shared a bottle of rather tasty wine over dinner too :) By this point it was almost all gone and we were rather full. How could we possibly resist dessert though, after the first 2 courses had been so good?! ;) Chris had a warm chocolate and almond tart served with custard and chocolate ice cream. I had a hot chocolate cake with mint choc chip ice cream :) Both were must yummy :D
We headed back to the room, now rather inebriated, and I decided I had better actually ask the question before I ran out of day! I had been considering doing it over dinner, but the restaurant was a little too busy, and we're not the kind of people to want a public spectacle! So I ask :) Presenting him with the (key)ring and chocolates, and obviously he says yes :D (Otherwise I wouldn't be writing this post, now would I?!) :)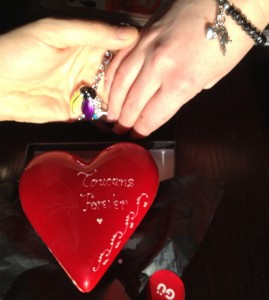 The next morning there was more sunshine, a little more spa usage, and a yummy chocolate back massage :) Followed by a hunt for a ring! We tried Longton (as we were driving through) and then Hanley, and when that failed headed back to cuddle the kitties for a while before heading up to the Trafford Centre. We walked round all the jewellers, and finally narrowed it down to three rings. We took photos and then had some dinner (mmmm, barburrito!) whilst we contemplated. Then we went and bought a ring :)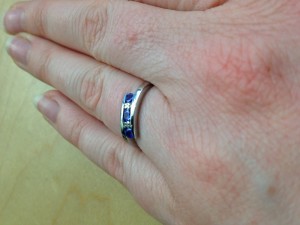 This is just a temporary ring whilst we choose a diamond ring, but it didn't feel right that I was engaged and didn't have a ring :) It's white gold with tanzanite and is very pretty :) Conveniently, my ring finger on my right hand is the same size, so it will still get lots of wearing once we finally choose a "proper" ring ;)
Now to do that wedding planning thing! :D