— Background —
This trip to Vegas was supposed to involve the planning for our wedding next year with close friends and family. As the trip approached it became clear that some of our guests-to-be weren't quite as excited by the location as we were. So we decided to just go for it whilst we were here. For reasons that will become apparent towards the end of this post, the date had to be October 5th, and having arrived in Vegas on the 3rd, this gave us 48 hours to plan and have a wedding! :D
— The Preparation —
The evening of the 3rd we headed over to the Marriage License Bureau and filled out the required forms in the pencils provided – I've never signed an official looking document in pencil before! There was no queue, so we wandered up to a window, corrected our misunderstanding of their form, and in exchange for $60 we had the legal documentation required – it really is as easy as the movies make out! :)
We also booked Luv Bug Weddings to perform the ceremony at 7:30pm on the 5th, though we had no idea where! They're a mobile company who come to you, to any public place!
First thing on Thursday we headed out to scout out locations – it was very early so the neon was still lit :) We had a quick trip to Frys to buy a camera with tripod so we stood some chance of taking photos. Then it was off to charity shops and pawn brokers hunting for clothes and rings. After a bit of a stressful day (apparently the only dresses left anywhere were in single digit sizes! Ugh!) we went to the outlet mall. Chris found an awesome suit pretty quickly and so it was time to find me something to wear. We headed over to David's Bridal as I knew they would sell me a dress I could take away then and there and had the fun experience of trying on dresses in a proper shop! It was amusing as they tried to up sell us to a much more expensive dress, but we both preferred the cheap one, which was lucky knowing what was to come! ;)
Then a trip to the pawn shop over the road found me a lovely ring which actually fit! :) Suddenly a little worry as Chris had no ring and shops were closing! We headed over to Hard Rock to their 24 hour jeweller and found him a ring too! Now we had everything we needed for the big day! :)
— The Big Day —
I barely slept thanks to jet lag and excitement so we had a fairly early start. We got all dressed up and headed out to our first photo spot of the day! :)
Where else could we start but the Welcome to Las Vegas sign? At this point we posted photos up to Facebook and let the world know what was going on :)
Next we drove out to the Valley of Fire for some nature shots. It's a beautiful place and I hope we can go back when I'm dressed in something more suitable for clambering and exploring!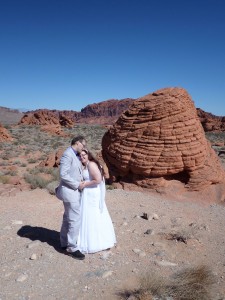 We spent a lot of the day at the mercy of very kind strangers – whilst we had a tripod for our little camera, most of the good photos came from when it was in someones hands! We'd often be busy trying to set up a shot when some kind soul would wander over and offer to take some for us :)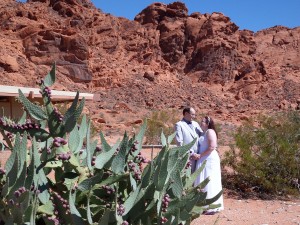 We could have spent hours there, it's so pretty! :) However, we had many more ideas for photos, so we jumped back in the car and drove back to Vegas. Time to get downtown for one of our favourite spots – the dice mural.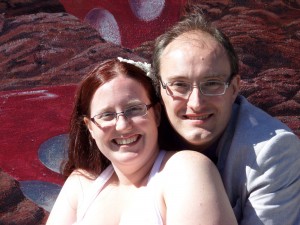 This one was a bit more challenging as the sun was so very bright! We lingered so long trying things out that we had 3 different people help! :)
We also stopped to grab a photo with the downtown cowboy :)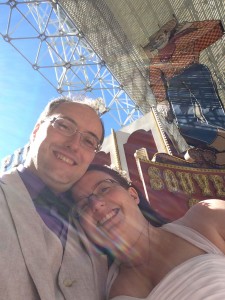 Somehow, it was already getting late and we didn't yet have our show tickets for the evening. So it was back to the strip for more photos on the way to the box office. We stopped in the Bellagio Conservatory for their lovely fall display of giant pumpkins and had more help with photos :)
Whilst waiting to cross the strip and playing with selfies, another friendly couple offered to take a photo! :)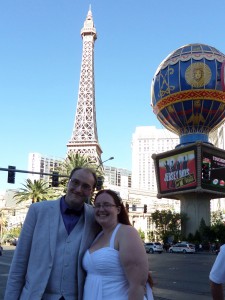 It was amazing how lovely everyone is when you're in wedding clothes! Everyone smiles and congratulates you! Many confused faces when we explained we weren't married yet but would be in a few short hours! :)
We collected our tickets from the box office and found ourselves in a hat shop which quickly led to Chris having a fab new hat! :) It was almost time for dinner so we played some slots for a bit mostly so we could take these photos! :)
Dinner was at the Eiffel Tower restaurant – a 5pm booking to guarantee us a window table :) It's an amazing view of the Bellagio fountains from up there! We treated ourselves to a glass of champagne to celebrate the day.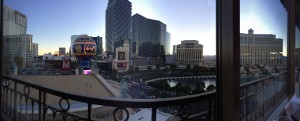 Then we had a wonderful meal! I had the pork chop, whilst Chris has the rack of lamb, sharing some creamed spinach and mushrooms.
Whilst waiting for dessert this fabulous chocolate mousse appeared with the explanation of it being a French tradition for newly weds to share a chocolate mousse and that it was probably okay a few hours early ;)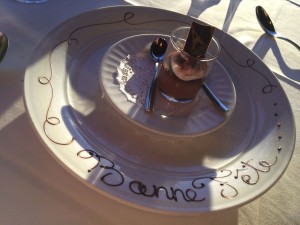 Dessert was souffle! Neither of us had ever had one before and they were awesome! So light and fluffy and yummy :) I had chocolate (of course!) and Chris has the pistachio. Both very tasty! :)
We had a little while before we needed to meet Tim & Pam for the ceremony, so we loitered by the Bellagio fountains trying to get photos. It's amazingly hard to get the lighting right, and when they're running no one offers to help. We did have one lovely girl manage to take a nice one :)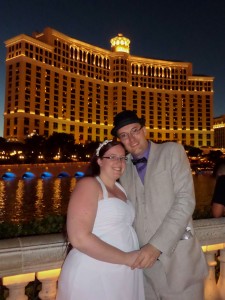 Then whilst the fountains were running we managed a sweet silhouette :)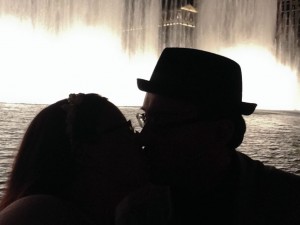 — The Ceremony —
The time had finally come and we met Tim & Pam outside Caesars Palace. They walked us over to the spot they use by the fountains for the ceremonies and it was lovely – quiet and peaceful compared to the bustle of everywhere around!
The ceremony was great – short but sweet. Tim said a lot of words which I can't remember, then we said our I do's, a vow together, and exchanged rings. Then we were married! :)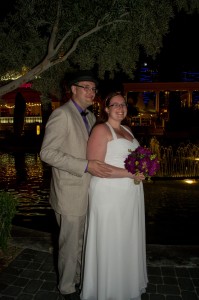 Pam led us round to take a few photos whilst Tim filled out the paperwork.
After the excitement of the day we collapsed back in our hotel room for a couple of hours before our show :)
— Evil Dead The Musical – Splatter Zone —
Yes, you did read that heading correctly ;) The reason we had to get married today was because we had already booked splatter zone tickets for Evil Dead tonight! :D Better yet, we got front row seats! It's rather a different experience in the Splatter zone and we seemed to be in the minority with knowing all the words ;)
What happens when you turn up to Evil Dead in your wedding dress, sit in the Splatter Zone, and refuse to wear their t-shirts? This happens! ;)
Until this, and the live chat with Sirc, I don't think anyone believed we really got married today! Certainly no one believed we were wearing our real wedding outfits! :D
It's not like we were ever going to wear them again – right? ;)
— Epilogue —
The wedding story doesn't end quite yet. Our "blood" stained clothes couldn't come home with us, and throwing them away just didn't feel right. So we took them out into the desert and buried them!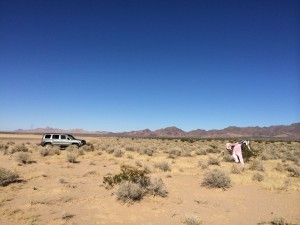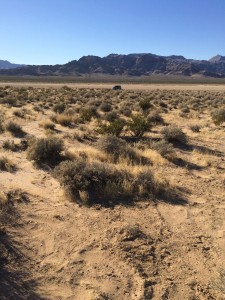 One day, maybe in the far distant future, someone might find them and wonder what on earth happened! ;)  Until then, only we know the location of our wedding clothes! :)