Ti2 Titanium
Ti2 Titanium is an exclusive range of jewellery created by Prism Design. Prism Design started some twenty years ago and is founded around the design partnership of Barry and Sally Milburn, with a staff of about 15 designers, craftsmen and administrators. Today they design and manufacture an extensive range of gold, silver, platinum and gem-set jewellery. They supply some 400 retailers within Great Britain and overseas.
The Ti2 Titanium Collection was conceived as a range of jewellery for men. The range features rings, bangles and cufflinks. Each piece is individually produced to the highest standards by skilled jewellers. Often diamonds and other precious stones are combined to complement the designs.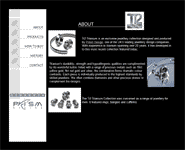 Ti2 Titanium
The website was designed by a professional designer and I was asked to rewrite the code so that it was standards compliant and to ensure consistency throughout the site. I was also asked to integrate the How To Buy section from Prism's main website so that it matched the style of this new site.
Update: This website is now being maintained by other developers.