PASCAL
PASCAL's first outlet was opened in Liberty back in 1980. Since then they have opened a further six shops in Britain's best department stores (Harrods, Harvey Nichols and House of Fraser) with more set to open in the near future. PASCAL have a number of in-house designers who are complemented by designers from around the world. New collections are added at least four times a year, with the majority being PASCAL exclusives.
After over twenty years retailing jewellery they decided it was time for an online presence and over the last 12 months their website has developed from a simple, static page listing their outlets to a full online store offering over 200 of their most popular items.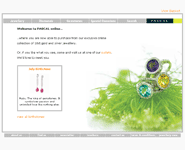 PASCAL
I have been the sole developer for this website since its initial conception. The designs were originally produced by iDesign and have slowly been adapted into the current website. Whilst the code behind the pages is still based on the standard online store code I've used for other websites, PASCAL have included a number of new and interesting features. These include the Birthstone suggestions on the front page and the "drop a subtle hint", "show a friend" and "make an enquiry" options on all items. The design required some clever Javascript for the front page animation and menu system. This had to be fully tested, especially on Apple Macs, to ensure it degraded neatly for those with non-standard or disabled Javascript.
The online ordering section was completely re-written to integrate with WorldPay and I also produced an administration site for PASCAL which can be used to process the orders - sending out standard emails to customers to inform them when the order is accepted and then despatched. The website also includes newsletter subscription and mailers are sent about once a month to both their customers and PR contacts.
Update: This website is now being maintained by other developers.