Cufflinks at Orlap
Orlap was started by Jack Thwaites in 1975 and now sells a wide range of jewellery to over 200 retailers in the UK. In their workshop they design and produce a variety of pieces in silver, 9ct and 18ct gold working with over 20 different semi-precious stones and four mother of pearl.
This website promotes their growing range of cufflink designs.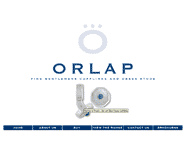 Cufflinks at Orlap
The design was created by Nicholas Goodwin and provided as a simple pdf. From this I created a prototype which we then worked through, together with Jack Thwaites, until we were all happy. The site uses some interesting javascript to smoothly move the menu bar from the bottom of the front page to appear along the top of the subsequent pages.
Update: This website is now being maintained by other developers.