Marley House
Marley House Nursing Home provides full residential care for the elderly in a warm and homely atmosphere under the direct supervision the Manager, Miss Jan Weekes, and a team of Registered Nurses. Marley house in a beautiful old-fashioned home situated on the edge of the Heritage coast of the Purbeck hills, in the quiet village of Winfrith Newburgh.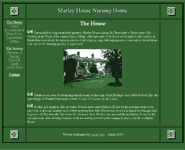 Marley House
After completing the website for Wordsworth House I was asked to update the Marley House website. The website was originally created by someone else and the HTML was rather messy and the navigation inconsistent. I made a number of design alterations and rewrote most of the code.
Update: This website is now being maintained by other developers.