Harriet Glen Design
Harriet Glen Design create a beautiful range of equestrian and animal jewellery. The pieces include mythical creatures such as pegasus and flying pigs as well as more traditional animals including dogs, cats and a wonderful British wildlife collection. Her racing horse collection includes a number of pieces where the jockey can be hand painted with your choice of colours to create a really personal item of jewellery.
Harriet also produces a number of limited edition bronze sculptures. A number of these were inspired by her trip to Africa, and she also produces a lot of horse sculptures.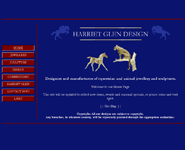 Harriet Glen Design
Harriet Glen Design had an online store under Great British Jewels for a number of years. Recently they decided that it was time for a new look and I was asked to rewrite the website. The new layout was designed by myself although I provided the client with a number of simple javascript tools to aid in the choice of colour scheme. As well as updating the look and feel of the website I also worked on a lot of the code behind to increase the page loading speeds.
Update: This website is now being maintained by other developers.